I Can Do It
MAG
Among the many emotions surrounding the horror witnessed and experienced on September 11, 2001, it was the feeling of helplessness that seemed to linger for weeks and months. While some members of my community were personally affected, everyone felt a need to reach out, pull together and take action. For adults, contributing money to relief funds, attending fund-raisers and supporting events helped them feel connected. For kids, these opportunities felt out of reach.

One Saturday, my friends and I were sitting around and decided that we could help in some meaningful way. What started as an idea was quickly set into action as we recognized a need, organized a fund-raising opportunity, and later felt the rewards of our contribution.

While I would love to say that the needs we saw were completely independent of ours, I cannot. Supporting others was our primary focus, but we also aimed to mend our own feelings of helplessness. As we brainstormed ideas, we considered our resources. The fall harvest was definitely on our side, and the supply of apples in my friend's orchard was bountiful. We decided to pick and sell apples to raise money. From the second the idea spilled out, our excitement grew exponentially.

After we picked a few bushels, we stacked them in the car and set up shop in front of the post office. Within two hours, we had earned $300. The response was terrific, which lured other students to join us. After two days we had sold apples to almost everyone in town. Our enthusiasm and momentum were on overdrive, and we didn't want to stop. So we asked ourselves, "What now?" With increased interest and support, our brainstorming brought sparks that put our crafts and creativity together. One day after school we set up an assembly line and created "flags you can wear," turning red, white and blue beads into pins, necklaces and bracelets.

The process of gathering volunteers was difficult but everyone's excitement made the task worthwhile. Students eagerly asked about our next "event" because they wanted to help, but also because we were having a great time working together. Although it was fun, everyone took their tasks seriously. At the end of the two-week effort, our profits (housed in a Fisher-Price cash register) totalled $4,500!

What we initially thought would be a small contribution became a substantial gift, and the culmination of our efforts was one we had never dreamed of. We invited a New York Fire Department truck to our village green and presented the crew with the money we'd raised. Their appreciation was obvious, but it was the look on each face surrounding the green that was the true reward. Some of the firefighters expressed their feelings with tears. The crowd circled around them and connected with their own show of emotion.

One firefighter thanked us for the "escape" from all the funerals; he noted the love toward strangers that permeated our group was a reminder that greatness and love prevail. The firefighters brought a uniform for students to try on. We laughed at how silly we looked, but for a moment we stepped into their shoes.

An article in the local paper asked, "How much do you think a bunch of kids could raise for families of fallen New York City firefighters by selling apples, flag stickers, and safety pins strung with red, white and blue beads?" Well, I think we answered that question, along with what we could do to make a difference. This experience has proved significant for more reasons than the money that was raised. It provided evidence that individuals need to feel a connection to others. As a result of our efforts, we not only provided a gift to others, they provided a gift to us.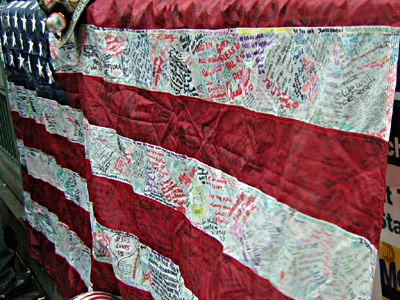 © Brittan S., Chino, CA