Adventures with Glendyn
MAG
I stood in the middle of the cold, windy playground, unable to move, and glanced at my watch. It was 5:15. I should have left 15 minutes ago to be home in time for dinner. I tried to move my legs, but the harder I struggled, the more difficult it became. I was glued to the spot.

There were four eight-year-old anvils firmly attached to each of my limbs, giggling amidst their cries of, "No, it's not time yet! You can't leave! We won't let you!"

This had been my weekly ordeal for the past two years as part of my participation in the Big Brothers Big Sisters program. I first heard about the program during sophomore year. Each volunteer is matched with an elementary-age child for afterschool activities once a week. I had always enjoyed working with kids, and since a number of my friends were joining, I assumed it wouldn't be too overwhelming a commitment and would be good for college applications, so I decided to give it a try.

I was introduced to my seven-year-old Little, Glendyn, and it was clear that she was the most outgoing and energetic girl I had ever met. Constantly surrounded by friends, she could run in circles for hours, and from what I could tell, that was her activity of choice.

For the first few weeks, when I arrived I would find Glendyn on the playground. Clambering up and down the jungle gym, she would say hello, ask me to hold her coat and insist that I stand to the side while she played with her friends. As I watched from a respectable distance, it occurred to me that earning her trust and friendship might be more difficult than I had thought.

Weeks passed, and with some perseverance, Glendyn started warming up to having me around. It wasn't long before she was tugging me along everywhere she went. She never walked, and it took all my energy to keep up. Inside, outside, to the library, gym, art room; it was a never-ending rotation. Occasionally, I would persuade her to sit and read a story or draw a picture, which she would focus on for about two minutes. Then there were the typical first-grader conflicts to resolve: "Christina called me stupid!" "Hey! He just pushed me!" "Haylee told me that Samantha said that she saw Sarah steal a marker from my pencil box!"

Tearful finger-pointing and whining would persist until the problem was solved or they lost interest and moved on to playing with Leggos. Whatever the situation, I always went home physically and emotionally exhausted. As the year wound down, I was seriously considering ending my participation with Big Brothers Big Sisters. All my friends were quitting, and I wasn't sure it was worth sticking with.

"Glendyn? Do you want me to be your big sister next year?" I asked one spring day as she climbed on the monkey bars.

"Yeah," she giggled, hanging upside-down.

"Are you sure? Because you could have a new big sister, someone who would be a lot of fun."

Glendyn hopped off the monkey bars, landing hard on the wood chips, and paused for a second.

"No," she said seriously, "I want you." She looked up at me with her often-employed and very effective pouty-face, and I knew that I would probably be stuck as her Big Sister until I went to college.

It's been another year since then, and I can't say that Glendyn has gotten any less energetic, or that afternoons with her are any less exhausting. My adventures with Glendyn have been part of a journey for me, but it hasn't been one I'm unhappy with. I've spent an afternoon every week with a girl who rearranges the cards in Candyland when she's winning and thinks I'm not looking so that we'll tie. I've gained a lot through her friendship, and I hope she has learned as much from me as I have from her.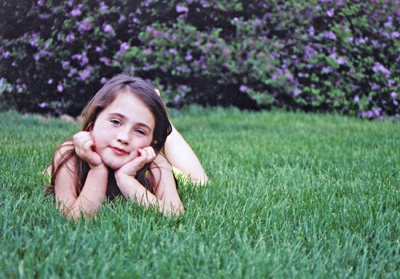 © Brittany S., No. Platte, NE