If I Could Change the World
MAG
It's unlikely that any of us will be the next Mother Teresa and only a few will have enough power to do big things in this world, but I believe that I can change the world by volunteering to help the less fortunate in my area.

Many do community service, but there is always more to do. Many volunteers help the poor through organizations, and some do it privately. Groups like Harvesters stage food drives for the homeless and poor. The Red Cross and Salvation Army also collect donations to distribute to the underprivileged. These organizations do great things to help those in need.

I plan to participate in more community service projects. I've already helped at Harvesters, and done yard work for the elderly who can no longer do it themselves. Sadly, most of my experience was required, not because I wanted to help society. But from now on, I would really like to help when it is not required. I plan to work at Harvesters, and possibly volunteer at the Red Cross or Salvation Army.

I cannot truthfully say that I volunteer often, or even somewhat often. I'm lots of talk, but little action, but one should keep in mind that I am a relatively busy teenage boy. My priorities are not as straight as they could be. Despite this, I think that it is the least I can do to help someone else, and put others before myself. It would be very fulfilling to know that I changed someone's life in even an insignificant way.

If there is a way that this 15-year-old boy can change the world, I think volunteering is the all-around best way to do it. The community I live in will benefit.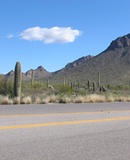 © Aleksandra K., Tucson, AZ