The Little Things
MAG
A couple summers ago, my mother told me, "You need to give back to your community." Since she was forcing me to do something, I figured I might as well enjoy it and so I decided to give swim lessons at the YMCA. I love the water and thought I could share that love with others by helping little kids learn how to swim.

I started off as an assistant to an instructor. When I got in the water, I noticed a boy of about six sitting on the edge of the pool looking terrified. I went over and introduced myself as one of his teachers and asked his name. He was so scared he could barely answer. He finally told me his name was Matt after I assured him that I would help him.

While trying to get Matt in the water, I was told that he had a condition that caused him to be unsure and afraid of many things, including the water. He was so scared that when he first got in, he gripped me very tightly. I initially thought this would be a long, frustrating two weeks with Matt, but after a while he got more comfortable around me and began to love the water. His parents watched him with the biggest smiles. They never thought their son would be able to make it through the lessons because of his condition.

I felt like such a hero for making this family so happy. By the end of the two weeks, I had a special bond with Matt. I will never forget him and the difference I made in his life. Although teaching him how to swim may sound like no big deal, it felt huge.

On the last day of lessons, Matt's mother told me how he always talked about me at home, and was so excited to come to his lesson every day. These are the little things which make my community service worth all the time I've given over the past few summers.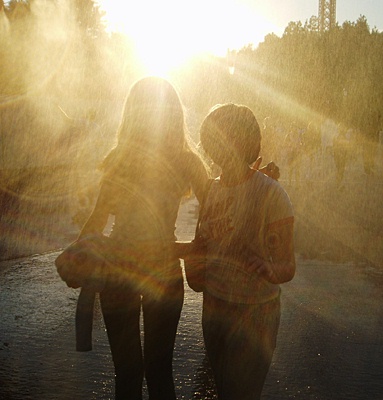 © Rebecca Y., Los Angeles, CA