Home is Where the Heart Is
MAG
What is home? A building with four walls and a roof? Or a place where you grow up among your loving family? For me, I believe the latter is the true definition of a home. Everyone, no matter who they are, deserves a home, yet many do not have one.

This spring, I had the opportunity through school to travel to Tijuana, Mexico to build homes for families. This great program, called the Mexico Mission Trip, takes our high-school family of students to Mexico for one week to build two to three homes for families chosen by Amor Ministries.

For one week, we slept in tents, lived without electricity or running water, and used a campfire as our source of heat during the cold nights. Although we lived in difficult conditions, that was the best week of my life.

At 7:30 a.m. we were off to the villages. Driving through the town of Tijuana was probably the most humbling situation of the entire trip. There, children walked miles to get to school on muddy and bumpy roads filled with roaring cars and crowds of people. Some people would set up stands selling everything from backpacks to fish and meat. The younger children chased after the hundreds of stray dogs. On these roads, we witnessed the worst of society but realized that almost everyone seemed happy. This made us want to get to the worksite faster and get to work.

The house we were fixing had leaks in the roof and walls made of wood and tarp. It did not have running water and the door was a towel hung from an awning. We set to work, clearing debris and leveling the ground to make the foundation.

Without electricity, we were forced to mix cement in large wheelbarrows. Although we were tired and ready for lunch, the smiles and laughter of the children helped us continue. We played with them while we learned some Spanish and they, in turn, learned some English. By the end of the day, the kids were cheering and chasing our vans, excited for the rest of the week.

Each day was a new and fascinating experience filled with laughter, games and hard work under the baking sun. By the end, we had constructed two beautiful homes for two beautiful families. Although hammering thousands upon thousands of nails and mixing thick cement was physically straining, saying good-bye to those families was the hardest thing we had to do that week. The language barrier was blown away and we all were soon speaking the same language: the language of love. As we left, with tears in our eyes, we looked back at the families and realized the immensity of what we had accomplished. We didn't just build a house of four walls and a roof, we built a home which would be filled with memories of our experience and the experiences of the families who were soon to move in.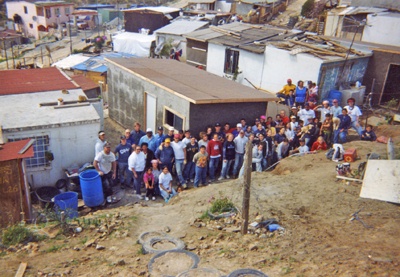 © Samantha T., Avondale, AZ