Helping Habitat for Humanity
MAG
In November of my sophomore year, three friends and I traveled to Rocky Point, Mexico where we volunteered with Habitat for Humanity. This was my first experience as a volunteer and I had little idea of what was in store. I was misled by our first night, spent along the translucent Pacific Ocean. The following morning presented an entirely different reality, and it began at the unthinkable hour of six o'clock.

As our group traveled to the job site, I observed a town of many contrasts. Near the beach, the town was bustling with tourists and vacationers. At the heart of Rocky Point, though, I saw a town of hopelessness and despair, one of stagnant living and frozen progress. Our destination turned out to be a former landfill where neighborhoods had sprung up and houses had been fashioned from things like mismatched garage doors.

For people accustomed to comfortable living conditions, it is easy to become complacent and turn a blind eye to the needs of others, especially when an international border separates the two. When I opened my eyes, however, it was a truly depressing sight; there is nothing more tragic than bearing witness to the crushed human spirit.

Over the next four days, my group of 30 worked tirelessly to complete the new house. When I thought my arms would fall off from sifting dirt, I helped frame walls. When I cursed my hammer after striking my thumb, I moved on to mixing concrete by hand (all our work was done without electricity). When I could no longer endure the sun, the work day would end and we would retire to the beach.

After pouring the foundation, constructing walls, raising the roof and applying stucco, it was time for the final touches. We spent the last day painting the trim purple, a color chosen by Imelda, who wanted her home to sparkle. When we finished, Imelda and her family beamed with bona fide smiles and thanks. Sensing tears, I casually slipped on my sunglasses despite the overcast skies. Though the work was difficult and tiresome, it never became dull or unpleasant. The fruits of our labor were so satisfying that the pains of the physical toil were easily forgotten.

Since then I have returned to Mexico twice as a volunteer, each time leaving with profound satisfaction and a rejuvenated respect for humanity's compassion. The physical labor is often demanding, and my muscles refuse to forgive me for days, but the smiles compensate for the aches. To give time and effort to those in need is a remarkable form of charity, and perhaps the most needed.

My life has been changed. In helping those who needed it most, I was able to discover the magnitude of my actions. I gave part of myself to that family, and what they gave me will continue to grow in my heart. That family gave me renewed faith in humanity's benevolence and compassion, a renewed sense of myself, and an awareness of life's inestimable value.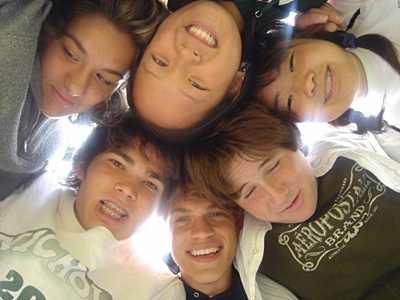 © Zhihan C., Hudson, OH