Cure
MAG
I think we began our mission when we were six years old. We were four blond-haired, blue-eyed children full of excitement and hope running door-to-door to tell our story. I had diabetes, and my friends and I were determined to find a cure. When we were six we believed that if our neighbors and friends gave us money, I would be freed from taking my many daily injections. It was that simple. Every fall, when we would fund raise, our neighbors and friends watched for us. They followed our story. Our fight against this disease touched everyone's heart.

At seven, eight, nine, ten, everything remained this simple. We had our regular donors and a little speech we had memorized and cheerfully recited as doors opened and checks were written. Our families taught us that the size of the donation did not matter but, despite these lectures on fund-raising etiquette, the bills with the bigger numbers always made us squeal. It was like trick-or-treating, the bigger the candy bar, the more excitement.

We bounced happily from house to house, street to street, town to town, year to year. Suddenly our bounce turned into a determined stride. We grew up, but we never grew out of our aspiration for a cure. We expanded our operations to more towns, letter writing, fund-raising dinners, and fashion shows. We made it into a business; we were determined to help find a cure. Every single day we poured our hearts and minds into the task, and everything we tried succeeded.

At some point, selflessness turned into competition. Instead of being proud of our accomplishments, each year became a contest to raise more money than the previous one. We knew this was a bump in the road, but it turned into a mountain when adults became involved. What once was a carefree, exciting activity had turned into a race we wanted no part of - a race to be the first to knock on a door and capture the donor's heart, or should I say their wallets? Moms were wildly running around town ringing doorbells

for their unenthusiastic children. This unsightly image disgusted us.

At 14, after recognizing our amazing accomplishments, the American Diabetes Association proposed that we compete against some of the other top fund raisers in the nation. They tempted us with incentives and we said we would think about it, but there was no question what we would do, "No fund raising this year," we sadly announced. "The game is getting ugly, and we don't want any part of it."

A year off gave us time to think about what we really wanted, and the answer became clear: we wanted to go outside on a warm sunny day and be giddy with excitement about the "big ones." We wanted to throw away our highly efficient methods of divide and conquer and bounce down the street, all together, one house at a time. We wanted to be six years old again.

From six to 17, our quest for the cure has never faltered. Today, our walk toward the cure is slower, but our fervor has not diminished. With maturity, we put our individual personalities and politics aside, and we are able to see our mission - raising money to cure diabetes - more clearly. Finally, we understand our parents' reminder that "every penny counts" and know that anything we decide to do to support the cause makes a difference. Instead of striving to defend our title of "top youth fund raisers in the country," we continue to strive to find a cure.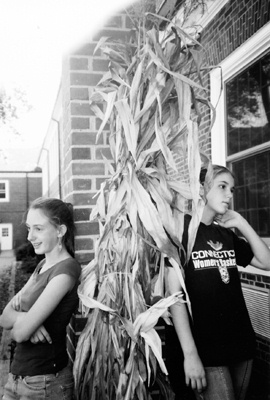 © Kevin L. Pequannock, NJ