Bright Smiles
MAG
This summer, my mom and I spent two incredible weeks in Lima, Peru with Global Volunteers. The group was from all over the United States and worked at the largest orphanage in South America, El Peuricultorio Perez Aranibar (PPA) which houses 550 children, 80% of whom have parents to go home to on weekends. It serves as a refuge because often parents can't afford to house their children, are too busy with other children, or are sick. Some even put the kids in life-threatening situations. The children are so excited to see their families on Friday, and yet on Monday often return with burns, bruises, and cuts.

Before I travelled to Peru, I received a wish list from PPA, which included the need for toothbrushes. I set a personal goal to collect 600 so that each kid could have a new one. The results were incredible and I ended up bringing 1,200!

The children I met in Peru taught me about the true spirit of giving. I thought I was going to be the one giving, but by the time I returned home, I realized I was the one receiving a much-needed reality check as well as the love of these children.

My work there was hard but so appreciated. In the mornings I was greeted by two girls, Luz Karma, 17, who really wanted to learn English, and Meche, 16, whose focus drifted to singing Nirvana songs. They spoke in broken English, and since I had only taken two years of Spanish, much of what we said to each other was lost in translation. My task was to teach them English since knowing the language is the only way to break out of Peru's poverty cycle. We would work for a while until we lost concentration and focused instead on American music and salsa dancing.

After a quick lunch, with these two girls still in my heart, I would work with the younger children. There was one staff for every five children and only four diaper changes were allowed per day. Clothes and toys had to be shared, and runny noses and crying children filled every day. The children's independence impressed me; they relied on themselves and their playmates. Nicole, a three-year-old, taught me about the true spirit of giving. The day we brought them all stickers, she took my hand and walked me around the room, handing them out to the other kids. When she ran out, she went to the kids who had more than the others and began to take them off and put them on me. She did not even think about keeping any for herself. For a child who has virtually nothing, her generosity was astounding.

Our major project was taking photographs of the girls in the dorms. I brought a Polaroid camera and quickly realized they didn't have many pictures of themselves. It made me sad to think they had few baby pictures or ones of their families, but now photos of all who live there fill the walls.

On the last day, the girls surprised us with a Peruvian flag pin and a meal they had prepared. Luz pinned the flag on me and said, "For your heart, so you remember always." Later, I was told the two girls had spent the very little money they had to buy the flags.

As I left the dorm for the last time, Luz hugged me and gave me one of the few pictures she had of herself. On the back she thanked me for helping her learn English and wrote, "Remember Always." Although her English still wasn't perfect, I felt as though I had changed her and she had changed me.

My experiences in Peru have given me a new way to understand the importance of giving. Instead of valuing material things, we need to value the act of giving. Whether to parents, siblings, teachers, friends, or a child in Peru, giving will make you a better person. The most important lesson I learned there is that life is all about choices. Every day you make a choice between buying something you want, like jeans, or helping someone else get something they need, like a toothbrush. We have a choice: whether we are going to live for the happiness of ourselves, or for the happiness of others. The children I met in Peru were much happier than most of us here at home because they were so giving. Daily, they opened their hearts and moved me to give more than just 1,200 toothbrushes, but also all of my heart.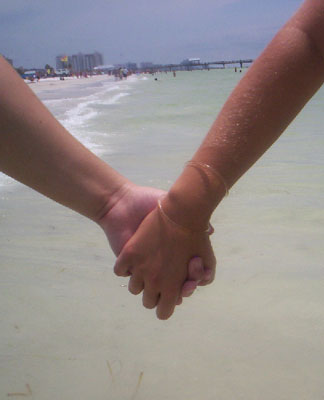 © Belinda H., Palm Harbor, FL