Building Foundations
MAG
Assam is a land of lush greenery, fragrant teas, exquisite silks, and exotic animals. It is the land of my ancestors, a fertile region tucked away in the northeastern corner of India. But the beautiful scenery of this state and its capital, Guwahati, is marred by the sight of young children wandering alone through its streets. These children, some as young as three, must fend for themselves during the day while their parents struggle to make ends meet doing menial labor.

Whenever I visited Guwahati, these children always troubled me, but I didn't know how to help. My chance to make a difference finally came when I learned about the Indian Council for Child Welfare (ICCW). I visited their facilities and realized that they were receiving barely enough funding to cover the necessities.

I knew that this was my chance to do something. I believed that the children needed more than food and shelter - they also needed materials that would stimulate their minds and spark their creativity. So I started StudentforStudent, an organization whose goal is to provide underprivileged kids with the foundation for a proper education. I collected art supplies for the children at the ICCW centers - materials that would allow them to express themselves artistically. Through StudentforStudent, I collected art kits and educational materials, and took the supplies to Assam a few summers ago to work with the kids.

The time I spent with these kids was one of the best experiences I've ever had, and these children I met will always have a place in my heart. I will never forget their excited faces when they saw the crayons, colored pencils, and markers, and I will never forget their shrieks of joy when they realized that these supplies were theirs to keep.

Drawing enabled them to express their ideas, thoughts, and emotions. Their pictures transported them to a fantasy world, a world where they were no longer restrained by the crushing bonds of poverty, a world where their hopes were not dreams but realities. Through their drawings, we transcended the language barrier and conversed in the universal language of art.

From this experience, I have learned that any contribution, no matter how small, is always appreciated. I realized that I have the power to make a difference in this world, one child at a time. The children taught me to be grateful for the everyday things I often take for granted, and to work hard for what I believe. In their eager faces and bright eyes, I see the fruits of my labor, and in their drawings and pictures, I see hope for their futures.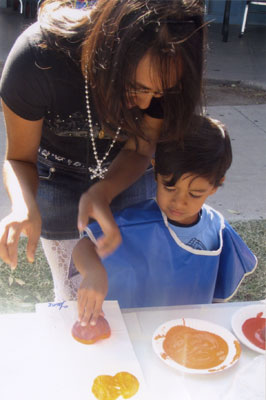 © Melinda M., Phoenix, AZ