Stories from a Soup Kitchen
MAG
I got the call two days after the seventh Harry Potter book came out. I was halfway through reading it, and I definitely didn't want any distractions. But the phone kept ringing, so reluctantly I answered it. Patty from my church said, "Rachel, we are helping at the soup kitchen at the Methodist church this afternoon and need volunteers. Are you available?"

I thought longingly of the climax of the book, dreaming of having an entire day to read. But my mouth answered, "Sure, my sister and I will be there at 5:15."

When we arrived, other volunteers were already at work washing dishes. A former teacher of mine and another woman were drying dishes while another distributed aprons to volunteers. A man wheeled out a drink cart and began filling pitchers. I glanced through the door and saw people already lining up outside.

"We've got five minutes until we open!" Mary strode into the kitchen. "You all come with me."

She led us downstairs to bring up huge containers of food, casseroles, salads, and watermelons. I goggled at the sight of the cart full of plate after plate of cake. One slice per person, I was told. Volunteers poured dressing over the great bowls of salad and peeled plastic wrap from the casserole dishes. Mary handed me a set of tongs, saying, "Each person gets one slice of watermelon."

Promptly at 5:30, the line began to move. A family with two kids in wheelchairs came through first. The mother and father each carried two plates and pushed a wheelchair. Two older men cracked jokes as they accepted scoops of the casserole and salad. "No watermelon," one said.

"Are you kidding?" I asked. "You don't want watermelon?"

He grinned. "I am kidding. Give me one of those."

A family of five came through the line, all three children as quiet as mice. The middle son bypassed the casserole and salad and held up his plate for watermelon and bread. "Is that all you want?" I asked. He nodded. "I'm not hungry."

Five minutes later, he was back. "Can I have some more? I'm only hungry for watermelon." I laughed and served him another slice.

A harried single mother herded her four children through the line. "Give each a scoop of everything," she instructed us. "They'd eat nothing but dessert otherwise." The kids made faces at the salad but happily accepted slices of watermelon and buttered French bread.

I saw families with five children, families with no children. One couple came through holding hands and smiling at each other. "We've been married 48 years, and I love her like I did when we were newlyweds!" the man told me.

Although the people accepted food, they gave me more than I gave them. They told me about their families - how one's daughter was getting married, another's son was learning to read. Kids told me what grade they were in as their parents beamed proudly.

I did see people I knew. One teenager with a tattoo on his arm avoided my gaze as his mom and siblings talked to me. I felt a wave of sorrow, not blaming him.

The most frightening part of the evening came at the end. A young woman in her late twenties came in, but she wasn't interested in food. She paced up and down, running her hands through her hair with a tortured expression on her face. Whenever anyone tried to talk to her, she pushed past as though she wasn't listening.

She was still there when we finished cleaning up. Mary called the police. "She is bipolar," Mary explained. "I've seen her before. I don't think she took her medicine today."

Nobody told me what happened to her, whether they got her home, whether she ever ate dinner. I keep remembering her face, and the faces of the others eating, happy and sad, chattering excitedly with friends or eating alone in the corner, each with a story to tell.

As much as I love to read Harry Potter, I'm still glad I went to the soup kitchen that night.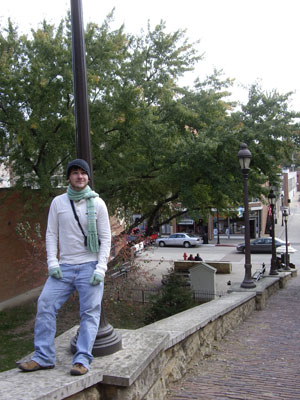 © Abby T., Princeton, IL