Musical Miracles
MAG
"We are caught in an inescapable network of mutuality, tied in a single garment of destiny."

- Dr. Martin Luther King, Jr.

Those words captured my imagination eight years ago as a wake-up call for me to act on a great vision of reciprocity and responsibility - a vision of caring. With dedication, and purposeful and direct use of my talents, I learned that I could sound an alarm to cause people to pay attention to the plight of children extremely ill with neurological diseases. They need more than medication and proper hospital facilities; they need evidence that other young people are working on their behalf, uplifting the community through deeds, not words.

I realized that I didn't need to wait until medical school to make a difference in their lives. I could put my talents as a violinist to work by performing concerts at Carnegie Hall, Lincoln Center, in halls across the country and the globe, and raise money for these children.

From the time I was seven years old, embracing the commitment to care became an important part of who I was. It is what led to my founding Children Helping Children, which has grown beyond my wildest dreams into a musical fundraising arm for the national medical community, and is now a center of great import in my life.

I have tried to be vocal about the things that matter to me. That has always been my way of caring. And so I have made it my life goal to raise funds for medical organizations, hospitals, and cutting-edge research targeting neurological diseases, and to inspire and empower young philanthropists and musicians to participate in benefit concerts for a cure all across the globe - saving lives through music.

I spend time each month speaking at medical conferences to provide visibility for the plight of desperately ill children. My colleagues and I have spent many weekends performing room to room in hospitals after full days at Juilliard.

I remember a meeting I had when I was seven with a world-renowned pediatric neurosurgeon, Dr. Fred Epstein, that resulted in a personal epiphany for me. He took me on a tour of the pediatric ICU that exposed me for the first time to children suffering from incurable diseases. I left determined to bring them some measure of peace, enjoyment, a little contagious enthusiasm, and a reminder of what's outside that ICU. Grave illness leads quickly to feelings of abandonment, and our compassion must call us to help. How could we live with ourselves if we haven't embraced the chance to give back in whatever capacity we're capable?

And so, I founded Children Helping Children. Now, every time Children Helping Children produces a Concert for a Cure, we raise funds to change lives. Young artists are beginning to realize that music can have a greater purpose. Otherwise, young performers will have made only a dent in the future of humankind.

Extraordinary things can happen if the arts and medicine join forces. A life can be saved somewhere in the world with the purchase of tickets to a Concert for a Cure, or funding cutting-edge research, supplying musical therapy services, the purchase of medical equipment, providing home-care services. In these ways, the young entrepreneurial philanthropists of our generation, along with the great prodigies of our time, can come together and create a youthquake: changes in the field of health care that we have only dreamt about.

I have a mission to demonstrate that the humanity of charitable works is not something reserved for adults. Through medicine and music, I attempt to say: I am 16 years old and I am responsible for my peers. What happens to one of us affects us all. I've only just begun to learn how to care. .

Read more at childrenhelpingchildren.net.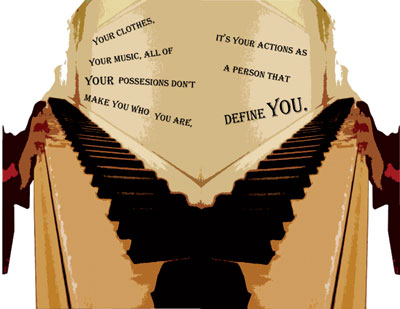 © Brad F., Stewartville, MN