Lower Nine Is Taking Time
April 14, 2011
During February break I went with a group of teens to New Orleans, and participated in this volunteer work. We spent the whole day there with a group called Lower Nine. The Lower Ninth Ward was severely ruined from Hurricane Katrina. According to ABC, "While two-thirds of New Orleans residents have now returned to the city, the Lower Ninth is still a ghost town." My four friends and I were given the job to "de-mold" the inside of a house and "bleach" the wood on it. Two of the people working for Lower Nine worked with us. Their names were Andrea and Flani. Andrea was from Italy and Flani from Belgium. They both had strong accents and were more proper than us Americans. They both came to New Orleans to view America and help fix the horrible tragedy of Hurricane Katrina. In the morning, we put on big blue suits and masks to make sure we didn't get germs.
One of my friends, Jacqui asked, "Could this get us sick, or infected?" They told us there was nothing to worry about and the suits weren't even 100% necessary. We scrubbed every piece of wood in the ruined house that had already been contaminated with mold. We did this to make sure no piece of wood had mold, and they were all perfect to use for the house. While "de-molding," I brought my iPod so we could all have music to listen to. I let Andrea pick the songs he liked and it was cool that he listened to the same music we did, even though he was from Italy. I also had a couple Italian songs which made him laugh. He knew some of my rap music such as "Jay-Z" which was funny because he was rapping with his Italian accent. I gave him my iPod touch and he started going through the artists laughing and saying "These are good artists! I like them." After the long morning we took a lunch break at the workers house. Although it was very tight, the people enjoyed living there because they were able to help support the houses of the area.

After lunch, we went back to work. This time we put our suits back on and we took paint brushes and rags soaked with bleach on them. We did this to clean the wood and make sure it was good for rebuilding the house. This took the whole afternoon because we had to scrub every piece of wood.

When the day had come to an end, an ice cream truck drove by. We all got ice cream and were happy to know that although the area had been ruined, they could still have nice things such as ice cream trucks. This is a symbol of hope for the people of New Orleans. It's great that in an area with such devastation they can still have a nice ice cream to make their day better. When we finished, we were all tired. Hot and proud we had contributed to the rebuilding of a house in New Orleans.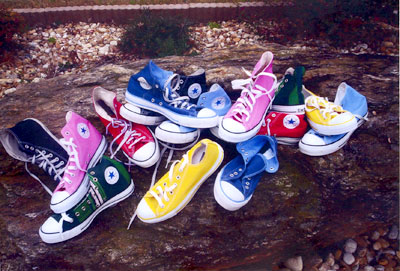 © Leandra L., Stockbridge, GA