My Lazy Dog
MAG
September 12, 2010
"He's such a good dog, so laid back." This is what everyone says about my four-year-old black lab, Ozzi. He has been that way since he was a puppy. But I never imagined that his laziness could help people.

I always knew Ozzi wasn't destined to be a great agility dog. He doesn't like to run, or jump, or chase balls. He hates to swim, and you will never catch him chasing his tail, but he always comes when I call him. The second I walk in the door he greets me with tail wagging, so excited to see me. While I watch TV he lies by my feet to keep me company. He loves everyone and his relaxed nature could make anyone smile.

"He would be the perfect therapy dog," my nana had always said, but I wasn't so sure. I was hesitant to get Ozzi (and me) involved because I didn't understand how my lazy dog could help others, but I decided we should give it a try.

We signed Ozzi up with Faithful Friends, a local organization, and he had to go through a training program and a series of tests to make sure he was a good choice. I didn't realize there were so many requirements to become a therapy dog.

Ozzi passed with flying colors, and we were scheduled to visit nursing and rehabilitation homes every other Tuesday. It was difficult for me to imagine exactly what Ozzi and I would do there and how that would help anyone, but I quickly found out.

Our first visit was to a rehabilitation home, where people live while recovering from serious accidents, strokes, and surgeries. Five minutes into our tour, we came across a gentleman who looked so sad and lonely it was heart-breaking. However, as soon as he saw Ozzi his demeanor changed. He sat up in his wheelchair, smiled, and called us over. His name was John, and he had had a stroke months before. He was still not able to live at home with his black lab. John missed his dog so much he couldn't stand it, so just being able to pet and hug and be near a dog so much like his own really made his day. He showed me the picture of Maggie, who really did look like Ozzi.

John looked forward to our visits, and we continued to see him until he was finally well enough to return home to live with Maggie.

Another patient touched by Ozzi was a woman named Elli, who was recovering from hip surgery. She didn't weigh more than 90 pounds, but she loved to have Ozzi practically sit on top of her so that she could cuddle with him. Elli liked to talk about how she used to have a little white poodle that was like a baby to her, and I think being around Ozzi brought back those good memories. Even though Ozzi is over 100 pounds, she somehow saw her dear poodle in him.

Meeting these people and many others at the nursing homes opened my eyes to the benefits of using dogs for therapy. I had always heard how interacting with dogs could lower people's blood pressure and relieve stress and headaches, but I never understood how. I have realized that above everything else, the best thing Ozzi has ever done is be a good friend to those who need one.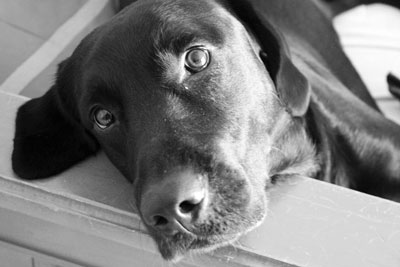 © Lindsay L., Snohomish, WA