Special Olympics
MAG
January 23, 2008
By 9:30 the riders were coming in, faces gleaming with eager smiles, helmets ready. Some were kids, others were as old as 50. Despite the variety in age, they had something in common: they were handicapped in some way, mentally or physically. They had trained and ridden all summer at the I Believe in Me Ranch in preparation for this day when they alone would be in the spotlight of the Special Olympics.

Earlier that morning the wind had picked up, shredding pale clouds in the September sky as we pulled into the parking lot. No one spoke much as we backed the horses out of the trailers and tied them up, but the excitement in the air was tangible. The horses felt it also (three years as a volunteer has made me familiar with their moods); the usually rock-steady Doc neighed as he watched the other trailers pulling in. Four-year-old Little Joe pawed the ground, impatient to be moving. I threw a saddle on and led him to the arena to run out some of his energy while we waited for the riders to arrive.

One by one, the participants greeted me or the other volunteers with broad grins and nervous eyes, begging assurance that they would do well. With evident ­affection they stroked their assigned mounts and fed them handfuls of grass, then mounted to practice before the show.

With eight riders in four events, our group was bound to win some prizes. And we did. But it isn't the first-place medals I remember. It's the fifth-place ribbon in a class of five, and Joshua, a boy with cerebral palsy, showing it to me with delight. "I won fifth," he said. "Fifth place!" It was impossible not to be as delighted as he was.

I remember Owen, a boy with a mental disability who rode Little Joe in the barrel race. Joe, so excited, broke into a lope, which lost his rider points, but when I caught the horse I wouldn't have guessed it by his rider's face. With one hand proudly on his hip, Owen said, "I did real good." Who was I to say otherwise?

By the end of the day, every rider had a ribbon, and it didn't matter what color or what mistakes riders or horses had made. No competitors had ever been happier than our group of handicapped riders. I wondered, looking at all of them, why we called them handicapped when it was really us "normal" people who have the handicap. Why can't we be more like them, enjoying every moment without reserve and ­taking pride in even the smallest ­accomplishment?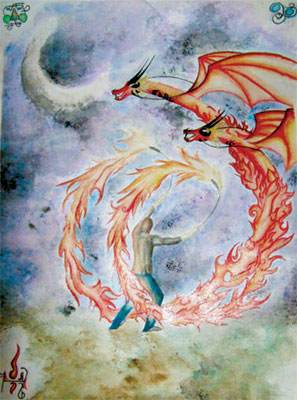 © Garrett P., Reno, NV