Operation Breakthrough
MAG
December 13, 2007
Have you ever felt a fire being lit inside your heart? Maybe it happened when you held your precious baby cousin, scored the winning goal in the championship, or fell in love for the first time. Whatever your situation, the feeling is always the same: pure ecstasy. My fire was lit in sixth grade through my school's community service group.

We were volunteering to work at Operation Breakthrough, a safe place for underprivileged children. It was on a warm spring day that I met two amazing women: Sister Berta and Sister Corita. Right then and there I aspired to be like them. They have dedicated their lives to saving children from abuse, neglect, and hunger, and their goal is to love the kids with an endless, generous spirit. What could be a more rewarding job than to be with kids and give them a brighter future? This experience lit a fire in me that cannot be extinguished.

A few years ago, a miracle was born in downtown Kansas City. Two heaven-sent people dreamed of building a center for needy children, and they made it happen. When I volunteered to help at the shelter, I was not prepared for what I would find. As I stepped inside, my fire ignited. Little children with worn clothes ran up to me and hugged me like I was their best friend. I learned that many of them were homeless and came to the shelter each day for meals; some babies even returned the next day wearing the same diaper. Many of the kids were cruelly abused and not wanted at their homes.

Operation Breakthrough is a home for kids who don't know what it is like to be loved. Sister Berta and Sister Corita devote their time, money, and love to providing a safe haven from the harsh life of the streets. When I walked out of that place, I was not the same person. I was now fully aware of how lucky I was – and I realized that helping those kids was my passion. Operation Breakthrough made me stop in my tracks and take a look at my life.

Passion, faith, and hard work go into running this center. Whenever there is a kid without a family, these saintly souls will adopt that child as their own. One story that tugged at my heartstrings was a little boy who came in and said, "Look! My shirt matches my shorts and my shorts match my shoes!" His smile spread from ear to ear, which made me realize how kind the sisters were to purchase an outfit for him. Many of the babies are born to teen mothers and are addicted to drugs. Sister Berta and Sister Corita give these young moms a second chance and provide a welcoming place for their children.

Every day they do more than teach, feed, and play with the kids. They make every kid feel special and wanted. I know that they are making an impact on many lives, including mine. They inspire us to pursue our dreams and love everyone along the way.

After I left Operation Breakthrough and the heart-warming children, I lay in bed and wondered what it would be like to work there. With my thoughts racing, I decided that when I grew up, I would open my own center for needy children. I would pair up with my husband or a friend and create and run a shelter. It would take a lot of work and have its setbacks, but it would be a worthy accomplishment. In my mind, it would almost be like being on top of the world. God has placed an eternal flame in Sister Berta and Sister Corita, and they will never give up when it comes to serving children. These women made me want to be as generous as they are and they gave me the greatest sense of inspiration. I am motivated!

Operation Breakthrough, Sister Berta and Sister Corita, and all of the children really are more than an inspiration. They are a building brimming with hope in a somewhat hopeless neighborhood. This fire that has been lit in me will need to be tended daily; I will need to remind myself of the rewards in the end. But when I am struggling through this process, I will remember those two people with hearts of gold and my flame will burn strong.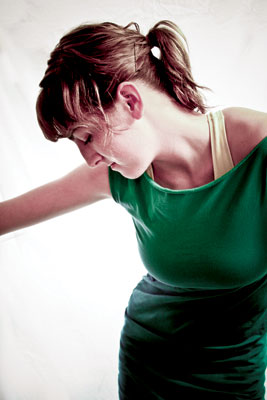 © Megan M., Ocala, FL