Checkered Sneakers Can Make All The Difference
April 30, 2010
People walk into our lives for a reason. Sometimes the reason is eminent immediately, other times it appears gradually. Some walk into our lives and soon walk out, while others stay. And those who do stay become an essential part of our lives, filling a void; an emptiness, always apparent and aching. And it is for this reason we hope they never walk out. Because those who stay we grow with, learn from, take after, and they begin to take a special place in our heart. Because those who stay change our lives profoundly, in ways never imaginable, altering everything we once knew. And those who stay take on an even deeper meaning, because they become the ones we need, the ones we love, the ones we can't live without.

However, I realize few people had an experience similar to mine. A few years ago, on an early fall afternoon, I decided it was time for a definite change. It wasn't a spur of the moment decision, but more of a choice I had been previously contemplating on for many months. There was something missing. I couldn't explain what it was, or how I was going to find it. I didn't even know what to begin looking for. But I knew it was there. I could feel it in everything I did. And so, finally it occurred to me. I needed to do something more with my life. I needed to give back. I needed to help people. Simply, I needed to volunteer.

I figured the easiest and most beneficial way to carry this idea out was to go back to what I knew: altar serving. Altar servers are volunteers who aid priests in liturgical ceremonies in the Catholic religion. And it was a perfect fit. I needed community service hours to receive the sacrament of Confirmation and also was obliged to attend Mass on a weekly basis. So why not do it all at once? It was a genius idea. My first step was rather a daring move. I settled on just showing up to Mass and asking to serve, rather than asking to come back and be put on the schedule. It seemed like this approach had less of a chance of being turned away; I wasn't taking any chances. This is what I wanted; I felt it in my heart as the right thing to do, that something more would evolve from the situation. And I was right.

In my quest, however, I made one minor mistake, a mistake that almost cost me the opportunity. I wore my pair of black and white checkered sneakers to Mass, rather than the usual black dress shoes mandatory to wear on the altar. Even though I was refused permission by the Deacon, a lower-status clergyman in the church, once the pastor saw me there, which was the first time in over two years, he gladly accepted the offer. But, the pastor, Father Tom Leach, did much more than that. He gave me the opportunity of a lifetime.

As the year progressed, and the more time I spent with Father Tom, the closer our relationship grew. Quickly, I realized the incredible person he was, recognizing I could trust and rely on him for anything. It was the small things he did, the way he asked if everything was okay, the way he made you laugh, the way he smiled. He became someone who I turned to for advice, turned to when I needed cheering up, or when I just needed someone to talk to about anything. He offered me support, guidance, and enthusiasm. He treated me with utmost kindness and care, the kind of thoughtfulness not felt with just anyone. He became a mentor, a father figure, and a most importantly, best friend.

In addition, Father Tom is someone who has taught me a lot about life through his words and actions. He's taught me to always be compassionate, optimistic, and warmhearted. He's made me learn how to appreciate everything you have in life, and not worry about the small things, because there will always be someone out there less fortunate than you. He's showed me how to cherish each and every moment you're given, because moments come and go. He's taught me the value of being happy and enjoying yourself, and surrounding yourself with the people you love. He's taught me to always stay calm and patient, even when things aren't working out the way you planned them to. He's shown me that sometimes the best way to deal with problems is by being humorous and turning them into jokes. He's made me learn to always have hope, even when everything seems hopeless. He's taught me how to always believe in myself, even when no one else will. He's taught me that life never has any boundaries; anything can happen if you have faith and never give up. He's helped me see the good in every bad situation, and has taught me that the power of love can conquer any problem. He's given me everything I could ever ask from a person, without even trying. He is my inspiration for everything I do, especially at my church. And without a doubt, he has overpoweringly transformed my life for the better. I don't know what I would ever do without him.

Since that fall afternoon, I've expanded my volunteer work greatly. I became a Lector, reading the Liturgy at Mass, and a Teen Leader in my parish's youth group, helping out in church events and in the community. I've also spent many hours volunteering in various activities for my school. I found a passion for something much more than myself: the joy of helping others. However, as I look back at this, almost three years later, I can't help but realize the positive impact his one decision has had on my life, as well as the lives of many others. And I also can't help but wonder, what would have happened it if weren't for those once meaningless checkered sneakers? But, it's a quote he once said to me that drives me to achieve my goals and motivates everything I do, "You have to decide what's important in life. Then, you have to fight for it." And fighting is what I plan to exactly do.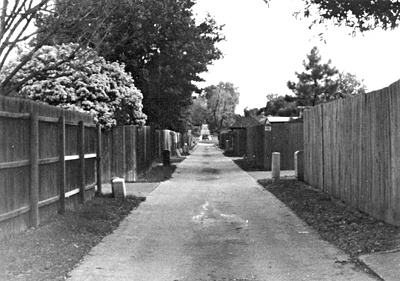 © Jaycee R., Lewisville, TX