A Better Person
February 7, 2010
I was sitting outside on my porch one day after school sipping a tall glass of pink lemonade when something hit me. Field Hockey had just ended a week ago and I now had nothing to do after school. I sat their contemplating possible things I could do to better myself. But then I thought about what if I could do something that helped others, not only myself? That is how I found the Ronald McDonald house in Portland, Maine.
The more I found out about this organization the more excited I became and the more I wanted to become a part of it. The Ronald McDonald House offers families with seriously ill or injured children who live far away from the hospital a place to stay. The families are comfortable and cared for during their stay. The Ronald McDonald House also offers a way for families to stay together and be able to support their loved ones during treatment. It is convenient that the The Ronald McDonald House is less than five minutes away from the hospital so that parents can communicate better with their child's medical team and be aware of the complicated treatment plans of their child.

The first time I walked into the Ronald McDonald House I was amazed by what I saw. I was going in for an interview and I was a little nervous because I had never been interviewed before. I walked through the big swinging white gate and rang the doorbell. I was immediately greeted by a bright woman with a big smile who informed me that the house manager would be out in a minute. I looked around and immediately I felt like I was home, it was just what the perfect home would be. It was spacious but cozy at the same time. The house manger came out and greeted me as well. She told me her name was Gabrielle and that it was great to meet me. I was so astonished how everyone was so friendly, welcoming, and warm. We went into the conference room and she told me all about the Ronald McDonald House and what it did. Then she took me on the tour of the house. I could not believe the size of the kitchen, it was huge. I loved how everything felt like a home, not a hotel. There was a little play room filled with toys for younger kids. There was a living room with big comfy couches and another room with computers for the guests to use. By the time it was time to leave, I was reluctant to go.
I walked outside and was so filled with joy that I had found this incredible place. I wanted to make a difference and help others and I knew that this would be a perfect place to do that. I got in my dad's car which was waiting for me and he asked me how it went, I replied, " Dad, I never realized how excited I could get about volunteering!" After that week, I started volunteering at the Ronald McDonald House every Monday after school.

All the other volunteers at the Ronald McDonald House were so friendly and helped me understand where everything is and how certain tasks are done. Every day that I go there I usually am doing something different. Sometimes I help put away dishes, clean rooms, clean the kitchen, help anyone who needs something, or help with paperwork. Sometimes I bake things for the guests, like brownies. During Christmas we set up a room full of toys for children to find something that they wanted and set up Christmas decorations. Going to the Ronald McDonald House is something that I look forward to the whole day before I come in. It does not feel like work when you are around so many great people and you know that you are doing something beneficial for others. Every time I am working in the kitchen and I hear families talking about their children who are in the hospital, sometimes sick with life threatening diseases, it just moves me how amazing and brave these parents and their children are. I have never had a family member be seriously ill before, so I cannot even imagine what it is like. All I know is that if I can make these people's day a little bit easier or brighter, then my goal is accomplished and I am happy.

It shocks me to think that I almost decided to spend my days after school lounging around at home. I have learned so much from my experience at the Ronald McDonald House. I have learned how much people appreciate and need my help. I have learned that if there is something that you love to do that also helps others, than you need to do that one thing, no matter what. I learned the importance of a smile and encouragement. I have learned so many things and I will keep on learning as I continue to volunteer. The experiences and knowledge that I have gained through volunteering will be with me forever. I feel that a part of me was missing before I started volunteering, and now that I have found that part of me, I am more fulfilled and my experience at the Ronald McDonald House has made me a better person.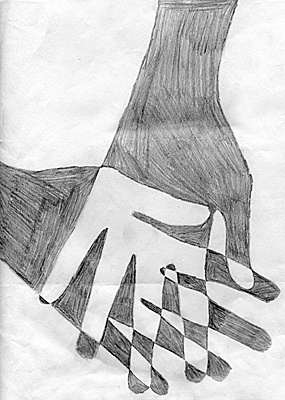 © Warlito B., Tamuning, GU