Dear Haters
April 11, 2017
Dear Haters,
I want to let you know that I spent years studying every lie you posted about me, every text you sent your friends about me, every stranger you turned against me. And I want to let you know that you were successful. You were successful in making me dislike what I saw in the mirror and you were successful in changing me. I also want to reassure you that you weren't the only one. If you ever get the chance to read this, please do not think I am singling you out. You are just one of many who have had such a profound impact on my life that you have been granted the title of 'Hater'.

It took a long time for me to think positively about any of you. I mean, you soiled my reputation in the eyes of so many peers, some of whom I never even got the chance to speak to. A few of you older, supposedly 'more mature haters', tore into my self confidence about school and learning with your sarcasm and your snide remarks about my idiocies.
But I am not here to bash you. In fact, I want to express my gratitude for your impact on my life. I am thankful for the lessons you have taught me and the experiences you have given me that have made me stronger. You equipped me with an understanding of rejection and failure far before any of my competitors. You taught me the meaning of true friendship and just how rare that comes. You showed me my flaws and gave me years and years to cope with them. You are the reason I understand that it is not my job to convince every one to like me.
I, your target, respect your opinion but kindly disagree with it. I think you have many wonderful qualities that shape your identity as do I. I wanted to thank you for looming over me in my times of darkness and following me as I strive to achieve my dreams. I wanted to thank you for constantly shoving me down into the mud and drenching me with feelings of insecurity, doubt, and falseness. Thank you for snaking words behind my back. For your piercing eyes, curving smirks, and judgment. Thank you for the times I leaped into the sun and you tried to be the law of gravity to bring me down. For making my goals seem inconsequential and unrealistic because your "truth" about me was that I didn't deserve it. Truth is relative in your eyes, in your hate, in your prejudice. But l appreciate you. Because I would not be the person who learned to BE ME without you. Because I have become someone aware of all of the flaws inside and on my surface but can still smile at my reflection. I can show a little skin, laugh with my real friends and tell people my dreams with the belief that I will one day make them come true. I have friends and family by my side who believe in my dreams and genuinely want to see me happy now. And all of that, is thanks to you. So, I truly appreciate what you have done for me. I swear on my 1,352 Instagram followers that I gained even after all your posts about me. I swear on my snapchat score that once only rose when I opened photos inscribed with hurtful messages from you. I swear on the intelligence and beauty I now see in myself. You may never know it, but you, hater, made me a better person. Thank you.
Sincerely,
A lover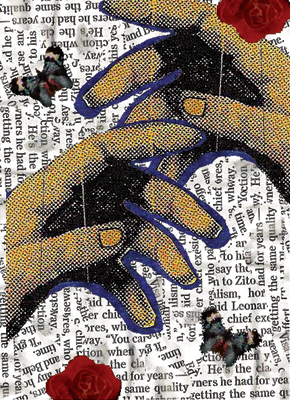 © Christine S., Arlington, VA