Bullying
April 6, 2017
Bullying is an everyday problem with which kids from all around the world have to deal,causing pain and suffering. Bullying can lead to many effects that include suicide, anger problems,and in extreme cases the murder of others. About 4,400 kids die every year from bullying and it is the 3rd most leading cause of death to young people. It has to stop at some point cause it's not worth risking a kid's life. Sometimes kids just get picked on because the bully is probably getting abused in their home environment and need someone to take their anger out on.
Bullying started in the 18th and 19th century and was only verbal or physical abuse. In those days, aggression, loneliness, were normal parts of a kids childhood. They also thought that the bully was the innocent one and that it was just a misadventure. A boy in the UK died in the 19th century because of bullying and the kids that were part of it incurred no punishment because they thought it was just a child. Around the 1850s bullying didn't really have any consequences because they assumed that it was supposed to happen.
Bullying has increased and now over the years over 14 percent of high school students are being bullying today. Most of the time, bullying is occurred because the child doing the bullying is being abused at his house. It's not right to be getting abused at home because that is what triggers all the anger problems. The bully shouldn't take out his anger he should control it.
Bullying not only occurs, it also happens outside of school like your sport teams or even at community events. Bullying also occurs it can on online which that is called cyber bullying and that can be even worse. Because you don't know who the person is at all and someone on the Internet is making fun of you. Plus they are saying threatening comments about who are and other stuff. Cyber bullying is just as worse as bullying in person because you are still influencing that kid to ruin his life that he has just begun.
In conclusion bullying is still a big problem and we should speak up when we see a kid being bullied. Plus it's not only happening in schools its other places too. So if you see a kid being bullied or picked on because of his size you should stop. Most of the time when kids are bullied they shut out everyone and get depressed. Which is bad because they don't wanna speak about what's going on and it gets you very scared cause you don't what's happening to your child.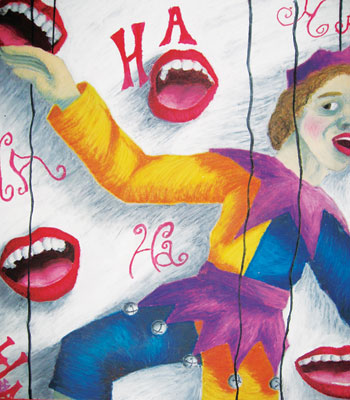 © Carollynn G., Hawthorne, NY