The Elephant
May 17, 2014
My brother is an elephant. Not an actual elephant, you understand; he's more of an "elephant in the room". Nobody talks about who he is or what he's like, but they don't seem to mind talking about what he's done. Of course, as gossip always does, his story has been twisted and embellished until no one knows the real story anymore. But I know the truth. I was there.

My brother is a great guy. Super smart, friendly, charismatic--he can make anyone feel comfortable in a matter of minutes. He was president of the student council this year. He was also the star player on our school's football team. Wow. This is sad. Here I am talking in the past tense and the school year isn't halfway over yet. That's because my brother got kicked out. Out of clubs, ourt of sports, and eventually out of school. Why? Because we live in Michigan.

Now I'm not saying that Michigan's got the worst schools or anything. They do have bad schools though--they pop up like dandelions, no matter what state you're in. But I am saying that even the "good schools" aren't perfect. Not the building. The people. Now this might not be true for every Michigan school, but where my brother and I used to go, both the teachers and the students were the most harsh, judgmental people I have ever met. Especially to my brother.

Now I could drag this story on forever, or I could just tell you what happened. So do you want to know why my brother got kicked out of school? It's because he's gay.

He had told my parents and I a few years ago, but was still officially "in the closet" to everyone else. So when after our team won the homecoming game, he ran over and kissed a guy in the stands. Even I didn't know until after the fact that the guy's name was Tom Rivers, and had been secretly dating my brother for three months. So I guess that's about it. The student council didn't want his negative popularity to jeopardize their fundraisers, the other football players--guys my brother had known for years--didn't want to play with a gay guy. They all told him so the day after the game, using all manner of swear words and fists. And then eventually, the school board kicked my brother out of school altogether to "prevent violations of conduct" which is total BS.

So while this sucks and all, it gets even worse. Every school in America--the "liberty and justice for all" America--has had problems like this. People have been killed, for saying "I love you" to the wrong person. Does anyone realize how twisted that is? Back. Off. It is not your life and it is not your business.My brother lost everything because some people felt "uncomfortable". But did anyone ever think to ask how my brother was feeling? Of course not.

So maybe, in the future, my brother and Tom can be together without "ruining" their reputations. Maybe they can have a shot at their own happy ending. But for now, my brother is, and always will be, the elephant in the room.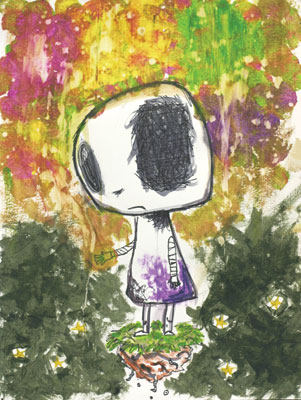 © Ashley W., Port Charlotte, FL