My Reflection
October 9, 2013
I look at myself in a large mirror. But not really at myself. I look through me, right into my soul. It is dark in here, a dark hole filled with red tints and pale, cracked thoughts.
I look at my skin, and I know it is my skin because I wear it and cannot pull it off. It is pale and soft, scared and hairless. I stare at it as if it were a stranger.
It is usually covered with a too large jacket and a thin sweater, but I cannot help but feel awkward looking at it.
I look in the mirror. This question haunts my mind, troubles my thoughts. I look into my eyes, at my skin. At my entire being.
"Who are you?" I whisper and flinch back at the sound of my own voice.
I never speak, so of course I'd be startled. But that is, in all conclusions, pathetic. I shake my head until my teeth rattle and my heart pounds with the effort.
I should not be ashamed of the skin I'm in. I should not be afraid to hear my own voice. Or should I?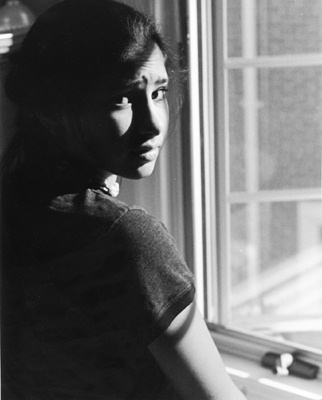 © Jennifer H., Bethesda, MD