the fairy tale
July 22, 2013
The gloomy heavens gazed upon the world underneath. The sun was imperceptible through the ominous haze. The thunder roared and the wind howled. The mood of the otherworld was not in its accustomed personality. It was disturbed. It was as if there was a conflict between hell and heaven and there was soon to be warfare.

Tom prowled across the lane on the way to his home. He gave a bewildered stare at the blue above. Having a glimpse of the gloomy ambiance he started to toddle with hefty steps. He knew his mother would yell at him for coming home belatedly from school.

He was a lone sufferer with many other scholars. A victim who was bullied by Jack who was from a higher grade. Everyone was compelled to obey him. His mother knew nothing with reference to it. She had not a sole suggestion that her child was bullied day after day and that it was the grounds of him coming home not on the anticipated time. Tom was too troubled to notify her the reality.

He looked at his shirt. It was sullied and shabby. He was soiled with dirt from head to foot. What would his mother say? As he reached the doorstep of his own dwelling his fear had swelled to an awfully soaring degree. He knocked the door with his shivering knuckles. The door was opened. His mother stood in front of him and simply crouched downward. She tenderly patted on the surface of Tom's cheek and then she wailed away like a small infant. Tears trickled down her cheeks like boulders of rocks from the top of a cliff. Tom was taken aback. What was going on?

"Thomas, life is so cruel. We all have to bear its wrath. Why? Why does it take our dear ones away," his mother screamed out.
Thomas was frozen. He ran indoors and there was suspense. Silence dominated the whole place. His dear grandpa was lying there with his mouth half open. Tom felt rooted to the ground. It was as if his legs had turned lifeless. Tears simply ran down his cheek like the rain that, like a ghost, dropped outside………
The night turned out to be the darkest hours of his living. His grandpa told fairytales at this moment and he would go off to sleep hearing them. What blissful times those were he understood at this instant. He could by no means have such a silent blow in his life ever again. His red eyes stared at the silent night sky.
The skies was overflowing with pallid painted blotches speckled here and there all throughout the flushed dark blue and it shone itself like a fairy, which dazzled with brightness, as told in all fairy tales who bestowed upon those, accolades who have by heart earned it. Tom's scarlet eyes at a snail's pace put up the shutters and had been in next to no time drowsy as if the prospect his perceived was a drug and in a little while was off to sleep.
The next day, William packed his bag. He did everything so inexplicably and heartlessly that her mother began to fret about him. It was as if a piece of his heart had been ripped off forcibly. Life started to be hell for him. He was fuming with anger, however, did not know at what. As he went to school the tale his grandpa told to him in the preceding night became discernible in his mind.
Grandpa said, "Once upon a time a prince lived who did not face challenges head on. He had a burden of the whole kingdom upon his shoulder after his father, the king, passed away. He was almost crushed to death by the weight and the responsibilities he bore. One after another weights were added doubling the burden he carried. Once, it had reached to a very elevated pressurized condition that he was no longer able to sustain. He now admitted himself to god. He decided to pray to the deity to come to his rescue. When he went back to sleep taking the prayers a dream appeared. His father was there. His father said to him to be strong and to be active, not to give up to any challenge presented before him and that a person has to fight against the challenge or be perished and a prince always needs to fight it and win it. From that day on the prince did not give up and presented himself to challenges and turned out to be the greatest king who ever lived."
Tom recalled this story in his mind. Soon he reached his school. Then and then Jack and some of his friends took him apart to the playground by holding the collar. A crowd was already present there.
"Hey, little kid you afraid of us?"
Tom did not utter a word. He silently watched him.
"Speak up you good for nothing child, c'mon, speak up!"
With this Jack slapped him firmly. Thomas was mow raging with anger. He had to either fight him or perish and he was very strong-willed to fight. He swung his fist and punched him hard. Jack, who was hit, moved a few steps back. Driven with anger he went forward to give him the punishment. However it was too late. The crowd of children had now come in front of Thomas. They understood now what they had to do and who they had to exchange blows for. Jack observing the throng was surprised and finally said, "Today was enough for these pests we will come tomorrow. Lets go for now."
There was talking about the fight all the day. Jack no more disturbed from then on. He silently watched him every day.
The next day tom had a glimpse of an evening star in the blue beaming at him and he decided that it was his grandpa congratulating this nine year old victorious child(tom himself) who in fairy tales–he assumed- was the prince himself.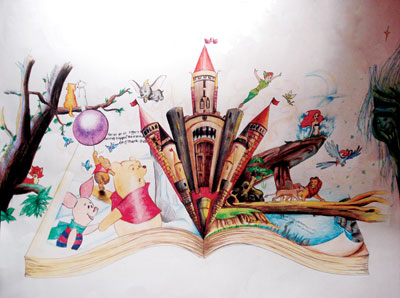 © Shirley L., Chino Hills, CA