The Scarlet Line
January 3, 2013
It was horrifying; how calm I was. How could anyone be calm?

I was stuck. I was in a box enclosing in on me; growing smaller and smaller until I become crushed. I was going down a path, twisting and turning with roots and rocks making me trip and fall. An invisible hand clasped my throat; squeezing, letting go, squeezing tighter, letting go. I was underwater. A strong force pulled me down, deeper into the abyss. My breath closed up and my heart slowed.

It wasn't over. A large heavy blanket fell from the sky and trapped me in an endless, dark search for an opening. At the end, I find no opening.

Yet, my hands were steady and I was calm, collected. A scary surge of renewed strength overcame me. I was ready.

The room was thrown into gray shadow. The dirty hands of darkness crawled down and up against the walls. I remembered it as clear, in high definition. I didn't miss one point in the whole room. I even felt the useless tear stains down my cheeks. Useless. Yes, they are; those tears.

Crying will do you absolutely no good.

I should tell Mother that.

Screaming. Yes, I do remember that too. Maybe I was screaming. No, I'm wrong. Everyone was screaming. The queen screamed on her throne. The ant and butterfly screamed. Even Father screamed. But that is absurd. He is always screaming or singing. Maybe everyone is singing instead of screaming.

I shook it off. Hysteria is not the answer. Sometimes there isn't an answer. There are solutions. Never answers. They never solve anything!

Then something wet, dark. My fingers run along the line.

Even in the dark, the scarlet line glows. And never heals.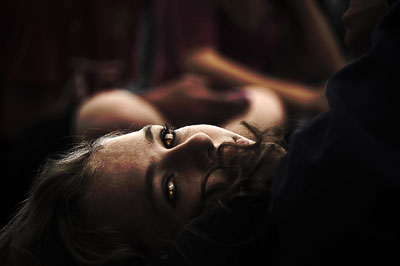 © Calvin C., Salt Lake City, UT