Manipulative Friendships
October 4, 2012
As a student of the Public School System, I would like to bring to your attention a situation of bullying that I feel has been left unnoticed. Typically, one views a high school "bully" as the difficult student who physically or verbally assaults another student. The bully is never thought of as a peer or friend of the victim. The bully fights, the bully is the foe, the bully is the enemy, but the bully is certainly not friends with the person being bullied.

That's a paradox, isn't it? The bully also playing the role of a friend. It contradicts itself, and yet, I feel it is entirely possible. First, she/he starts by being your friend. They talk to you, they are nice to you, they appear perfectly normal. Once they have you in their grasp, they begin to manipulate you and control you.

So, some might say, well, why can't you just say no, that you don't want to be friends? Ah, but he/she is prepared for this, and will do anything in their power to force you to stay friends with them. Jane Doe says one of her friends threatened to commit suicide when Jane tried to end their friendship.

George K. Simon, author of "In Sheep's Clothing" writes about the inner workings of manipulative people, and exactly what tactics they will use to make you fall into their trap. "The tactics manipulators use can make it seem like they're hurting, caring, defending…almost anything but fighting." He also writes they will use such strategies and tactics such as guilt-tripping, denial, lying, vilifying or playing the victim. This ploy of acting like the victim and not fighting is what separates manipulative friends from typical bullies.

Kids aren't being taught to cope with a situation like a manipulative friend. We're shown to keep our eyes open for the openly aggressive kids- the fighting bullies. We're not learning how to deal with the silent-killers, the deceptive and aggressive "friends" who know how to get under your skin and control you. According to bullying statistics for 2010, there are 2.7 million students being bullied in the U.S, with 2.1 million acting as the role of the bully. And, is this even factoring in the friends who double as bullies? Whether the statistics are right or not, it's clear something needs to be done, or the bullying rate will increase even more. We, the kids, need to be taught how to face situations like manipulative friends, because there will always be deceptive people in the world. We need to learn how to be assertive, how to examine others and their true motives, and, most importantly, we need to learn how choose our friends.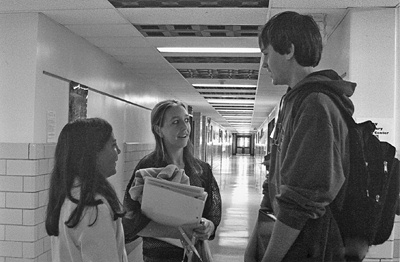 © Kathryn K., Pompton Plains, NJ