A Special Letter
May 30, 2012
"Loser!"
"Idiot!"
"Snitch!" they scream.
Her parents are getting a divorce.
They both work day and night jobs.
She has not seen them in weeks.
They scream more names at her, as she tries to block them out.
Water comes to her eyes, but she tries to hold them back.
They scream about teaching her a lesson and threating physical abuse.
She gets more and more afraid as more children get dropped off and her stop becomes closer and closer.
Will today be the day I end up in the hospital, like they say, she asks herself.
More water comes to her eyes, threating to spill over and make it-self known.
They scream more obscenities at her and the tears start rolling out.
She silently cries to herself.
Once they find she is crying they tease her more.
She prays to herself wishing she could disappear.
More children get off, dropping notes on her as they pass by.
She unfolds one and reads the horrible words it contains.
The bus stops.
It is her turn to get off now.
She gathers the notes and her stuff and runs off the bus, her house key in hand.
After running to her house-unlocking the door, and relocking in she sits down by the shredder.
She pulls paper out of her hair and book bag feeding the shredder each piece.
Then she pulls out her homework and gets to work.
After she makes dinner for herself and cleans the house.
It's six o'clock when she goes to bed, because she has nothing left to do.
* * * * * * * * * * * * * * *
On the ride home it is the same thing.
They rap about her too today.
On the stop before hers, a thick envelope is placed on her lap.
She looks up, her eyes red and swollen from crying.
What she sees is a girl smiling just before dismounting the bus.
While weighing the envelope she notices some writing, telling her to open it at home.
Once at home, she opens it, reading though the handwritten pages.
At the bottom of the last page was something she had notice earlier that day.
It said, I will never show any sign of bullying because it has happened to me. Do not listen to them. You are special in your own way. You are not an idiot, loser, or anything else. Use what they say to your advantage by fueling yourself off of what they do. Know that you are not going to make the same mistakes as them. Do not be unhappy because of it, smile because it happened. You can do whatever to this letter, but please hold the words close to your heart!
She smiled the next day getting on the bus, not because she would be at school soon, but because she now had hope in her heart.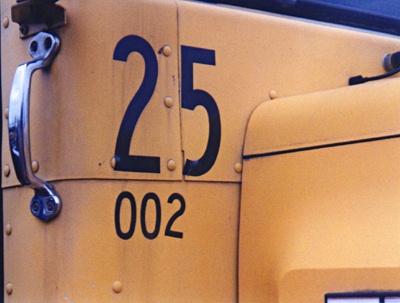 © Sammy B., Palmyra, PA