Heinous Bullying
May 30, 2012
Bullying is defined as an intentional act that causes harm to others, and may involve verbal harassment, verbal or non-verbal threats, physical assault, stalking, or other methods of coercion such as manipulation, blackmail, or extortion. It is aggressive behaviour that intends to hurt, threaten or frighten another person. An imbalance of power between the aggressor and the victim is often involved. Bullying occurs in a variety of contexts, such as schools, workplaces, political or military settings.
Bullying is happening everywhere and the chances that children will encounter it are high. Around the world, statistics are being collated on the impact and prevalence of bullying, particularly within schools and online in cyberspace. With all schools talking about bullying and the media regularly reporting on latest research, it could seem like we're in a bullying epidemic. But, it's not all bad – the incidence of bullying, particularly the traditional face-to-face style according to expert Dr Toni Noble, is not increasing."It's a controversial area but with the effective communication of the message that bullying is unacceptable, it's just now more likely to be reported," says Dr Noble, a member of the National Centre Against Bullying, who works with the Federal Government on National Safe Schools Framework being rolled out into all schools later this year.
Laws and policies governing bullying vary by state and entity. As of March 2007, 30 states have enacted harassment, intimidation and bullying statutes. In 2007, LOWA enacted anti-harassment and anti-bullying legislation. During the 2005-2006 legislative sessions, eleven states- Alaska, Arizona, Idaho, Indiana, Maine, Maryland, Missouri, Ohio, South Carolina, Tennessee and Virginia- enacted new policies and four states- Arkansas, Connecticut, Illinois and Vermont – amended or expanded statutes. Bullying causes major issues to schools through personal experience. Physically harming a student or damaging a student's property as well as placing a student in reasonable fear of physical harm or damage to hi/her property. Substantially disrupting the instructional program or the orderly operations of the school it is so severe, persistent, or pervasive that it creates an intimidating, hostile educational environment for the student who is bullied.
It is dismaying to know that some schools do not really care about the victims of bullying. These days bullying has been spreading throughout like a contagious disease. Fear has overcome the hearts of many as the incidents of bullying that are happening nowadays are outrageous. Citizens must be educated about the major causes of bullying and the tragic events. It is crystal clear that people should hit two birds with one stone and educate themselves and others about bullying.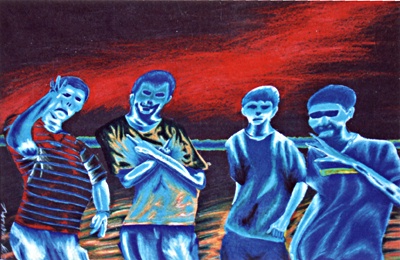 © Troy W., Kannapolis, NC