Silent Unjustices
May 25, 2012
Coming to America from her homeland was different. By the age of five, Maria already knew how to read, write and do arithmetic common for students in the second grade; of course this was all in her native tongue. However this isn't her native language, this is not the place Maria has known as home; this is America, they speak English and Mr. Smith did not want to have anything to do with any student that did not.

It was the morning of her first day of the first grade. With a paper bag lunch holding the sandwich and snacks her mother packed for lunch, Maria walked the few blocks clenching her older brother's hand. Upon reaching the schoolyard the siblings had to depart she was forced to find where she needed to be alone. The small statured, olive pigmented girl with a long black braid in her hair stood facing a classroom of lighter hair and skin children and a teacher that matched. Maria took a seat in the back of the classroom, and as much attention as the language barrier allowed. Mr. Smith taught the class to the majority, his explanations, lessons, and praises all in English. He made no attempt to reach out to her. Days turned into weeks, weeks into months and by this time she learned little to nothing. As Mr. Smith walked around the classroom, observing his students, he gave an occasional pat on the head or "good job" whisper; one knew, upon observation, he was proud of his class. Passing Maria was hasty, accompanied with a side glance and never contact, as if her immigrant status was a contagious disease he did not want to catch.

The school year ended and Maria was allowed to move up with her peers to the proceeding grade. Mr. Smith assumed he was done with her, assumed Maria was now somebody else's problem in which they would have to deal with. But he was wrong. Maria was assigned to his class again and he continued to ignore her, sat her in the back of the room, unwilling to teacher her anything.

The events of her first and second grade career plagued her educational growth exponential. She went through the motions of school doing the bare minimum, lacking the self confidence she needed to push herself, believing that she was truly stupid and did not deserve to be taught amongst her American peers.

Victims of bullies dread facing their conqueror which is what Maria faced in her elementary years. When picturing a bullying scenario, many picture young children on the play ground or perhaps, for the more modern thinker, adolescents behind a computer screen. Often the difference in power is apparent in bullying scenarios, but the most evident power struggle and another type of bullying is often overlooked. The teachers hold all of the power and do with it as they choose.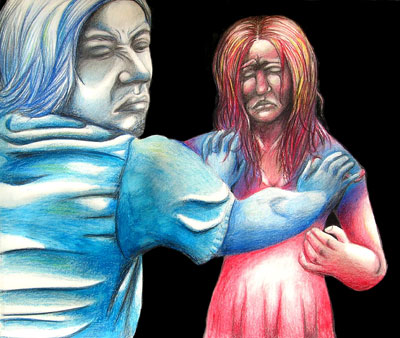 © Jessica P., Bethel Park, PA