To Wizen Up
May 24, 2012
The title of F. Scott Fitzgerald's short story, "The Freshest Boy," has not withstood time or the popular culture. I'm sure that if either had exploded in tremendous, existence-ending eruptions, the meaning would not be so musty; it wouldn't presently put smiles on our lips. I summon the title to allude to the story, for there Fitzgerald wrote that if among young boys, you once were queered, you will remain queered and your attempts at atoning will forever and inexplicably fail. Well, I'm pleased to report that having jettisoned many male grade-levels—some dreadful personality traits—I've succeeded at having my queerness valued, or at least, benignly tolerated.


Success doesn't make a proper story, however. To get at the real marrow of things I must transport you from a World School to an Elementary School to its play-yard. In Pinellas County, these play-yards follow a cookie-cutter. When I transferred elementary schools—I swear to you—it was like walking a theater house's back room. Past props will radiate the stage's spotlighting—its sad nostalgia—in perfectly cancerous roentgens. And as glowing ghosts seem to walk among the bones of a set, I will again haunt these playgrounds for you, walking between the school, the transfer-school.

(I am a benevolent shade.)


The playgrounds' back ends were each darkened by a lonely, sickly oak. These ends terminated in corners of wire-mesh fencing. I will place your hand in their respective chain-links:
At Davis, the links were smooth and cool, cool from the shade.

At Curlew Creek, workers had just finished spraying concrete for a new sidewalk. The splatter from their hoses had hardened onto these loops in sharp, hurtful burs.

I tell you they were sharp and hurtful because I still can identify the scars from where they broke my skin.


However, the plaster burs broke my skin like any blade, gun, or greasy slider has ever killed a man. It takes an agent to break skin and to take lives and change lives—or so I'd like to think. You might guess I would choose for agents the boys to whom I was queered.

But that's an unsatisfying conclusion.


In their defense, I too would have joined in punishing myself against a chain-link corner. I was a queer kid. I say this because I still don't understand that rough boys laugh when you substitute "strange" with "queer" (another musty meaning), but I say this even more because I was sour-faced and beetle-browed—a world-hating brat. And while I don't think those failures justified six agonizing years, the bullies they attracted catalyzed needful—painful—lessons.


I had been shrugging off the world, you see—asking its sticks, stones, and then learning to shrug those off, too. The bully's terrible assay taught me to live in the world. Like Fitzgerald's unfortunate protagonist, I had to get wise to myself. Don't dismiss bullying outright: Like any calamity, it has the capacity for generative good.

Swallow their poison and convert it to a better end!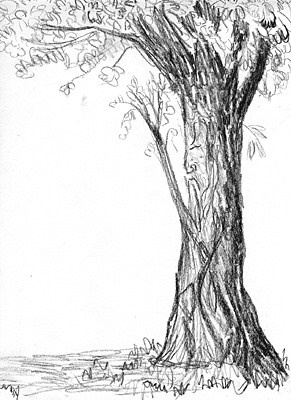 © Anna W., Athens, PA