What Nobody Knows
May 24, 2012
She cries in the bathroom
Over those looks;
Those words that can't be unsaid
That drum in her head with every breath she takes.
"Worthless."
But maybe they're not lying,
She thinks
Because.of.them.

She worships food.
Counting and counting,
The less she eats the emptier she feels.
But more means guilt upon guilt and hate and tears and pounds and pounds of regret
And wanting to go back 20 pounds.
And why does she feel this way –
Like she wants to starve until she's invisible because then maybe the pain in her heart will disappear too?
All of this
Because.of.him.

She dwells on her best friend's betrayal –
Hurt by the one she had let past her web of lies.
Whispering over reruns became
Cold stares
Like daggers of fire and ice (the pains of both all rolled together)
Sure to start the tears flowing again until they can't be stopped.
A piece of her heart killed that she didn't know was still beating
After all this time.
Maybe learning that she never really cared at all hurt the most.
Silent sobs in the dark of night
Because.of.her.

If she wasn't perfect enough for them,
Or skinny enough for him,
Or normal enough for her,
Will she be good enough for anyone?

For herself?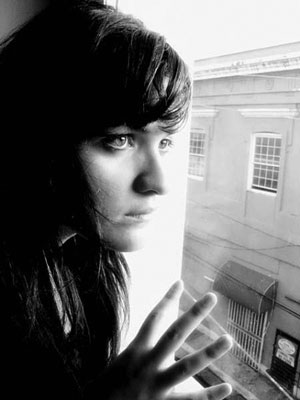 © Eveliz V., Bayamon, Puerto Rico