I Was Scared
February 5, 2018
My new school is so much bigger than my old one. The middle of the year.... the new girl. I had everyone trying to be my friend. While it was nice to feel welcomed, I was overwhelmed by all the unexpected attention. On the first day I had two boys ask me out. I didn't even know their names. On the second day another asked me out. On the third day another one. And again today. 
I don't know what I do to deserve the attention I get. I don't want to be crowded around like an animal at a zoo. I want my old friends. I want my old teachers. I want my old classes. I want my old life back. This is hard. I had to move. I have only advanced classes. I have a lot of stress in my life. But sometimes I have to sit and think about some of the others are going through. Things that are much harder than what I am going through. Wow.... just think about it. The world doesn't revolve around me. The world doesn't revolve around you. It doesn't stop when you ask it to. The world keeps turning. It doesn't care who you are, what you've gone through or what's happening. It's still turning and you have to keep up. 
Life is hard. But to get through life you don't need too much. You just need to keep up. Stay with the right people, keep up with what you have to do.... not much is expected but if you have confidence in yourslef you can be happy. Instead of being uoset about what you are going through be happy about what you don't have to go through.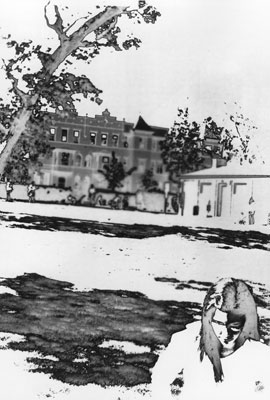 © Simon E., Bethesda, MD