The World Around Us: A Teenage Perspective
October 16, 2017
Las Vegas: A gambler's paradise, a hot spot for shoppers, the place to party, and an ideal location for tourists. Vegas is where a person goes to have fun. That's exactly what Jason Aldean concert-goers were doing on October 1, 2017, until their dreams turned into a nightmare. Fans were enjoying the show until gunman, Stephen Paddock, open-fired into the crowd, killing 59 people and injuring about 500. As a teenager, I feel this overwhelming sense of helplessness. It makes me feel so unsafe that all of this crime and violence is taking place, but I feel like people my age can't do too much about it. There is one question we need to ask ourselves: What can our generation do to help better our society as we venture out into the world?
Crime and violence has taken over the world, but they're not the only major factors affecting society negatively today. Inequality is also a big issue in our world. Teens are not always accepting of people that are different than them. I feel like although crime, violence, and prejudice are all huge problems in our society, there are still some steps that we can take to prevent them from taking place.

I understand that we want to deny that our world is going down the drain. We want to remain happy in sad times. That is why it is difficult to bring awareness to these topics because we don't all want to talk about it. It is important that people are aware of the violence and prejudice taking place so that we can do more to stop it as we get older. The issue that ties prejudice and crime together is bullying. As teens, we are the ones that take part in most of the bullying due to our higher standards and everybody striving to be better than each other. We are sometimes mean to other people so that we can feel better than them. Everyone has been a bully at some point. People like Stephen Paddock and other shooters and criminals around the world have probably been bullied at some point. They feel like they need to take down the world because the world has tried to take them down. If we are nice to everyone, I am sure there will be a lower crime rate in the future.

On the terms of inequality, people just need to be more accepting. I understand that no one is perfect and we don't agree with everyone. We don't want to accept people that don't have the same beliefs as us. The hard truth is that the world is changing. Are we going to change with it? The answer is yes, we have to. If we can't be nice to people that aren't the same as us, we will never be a united society, and we will never have a better world.

Crime, violence and prejudice are all big problems, but we can solve them. I truly hope that we try to bring peace to our world and that future generations do so as well. If we all work together, we can bring upon us a better world for us and generations to come.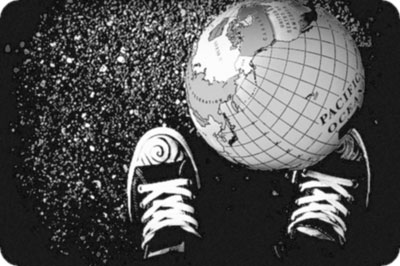 © Kailey E., Crownsville, MD