Fatherhood.
November 8, 2012
"Joint custody". "Alternating weekends and Thursdays". "Non-residential parent must pay xxxxx per month to support children's medical or educational needs". "Will live with mother at primary residence and attend school in said local area". I didn't know what any of these words meant. I didn't know that this was the agreement my parents made. All I knew was that every Thursday and every other weekend, I was shuttled back and forth between my house, the house I grew up in, the place I called home, and the house of my paternal grandmother, where my dad lived until he got on his feet.
Of course, I didn't have a say. I was seven, going on eight years old. I understood very well why this was happening. The pictures, the really strange stuffed animals (which he passed off as an inside joke between him and a 'friend'), letters, phone calls late at night, the constant whispering, and dad's frantic jump whenever I came near him at the computer desk all made sense. I felt like a spy. I felt like I knew his big secret. Stepping too close to him while he was on the computer made him suspicious, and once it landed me against a wall, unable to breathe. I was five then. The one thing I didn't understand about this whole ordeal at the time was, who was going to ask me if going to Grandma and Pop Pop's house every other weekend was what I really wanted? When would I have to stop being a spy? I waited for someone to tell me something other than, "Allie, this is not your fault. This is no one's fault. It just happens." Everything became separate. Separate homes, separate lives, separate holidays, separate family, separate from mom, separate from dad, separate until I was alone in my confusion.
In the years to follow, I've developed a grave concept of fatherhood. I've come to see fatherhood as a myth, in its own twisted sense. I'm a little biased, considering I didn't have a dad. Fathers don't just choke their five year old daughters on Christmas unless they're hiding something. Fathers don't cheat. They don't just meet women somewhere and end their marriage and destroy their children's lives. Fathers don't just leave. It takes a penis to be a father, but a heart to be a dad. And mine had neither the balls or the heart to ever be a parent or be anything other than a Y-chromosome to me. I am not my father's daughter.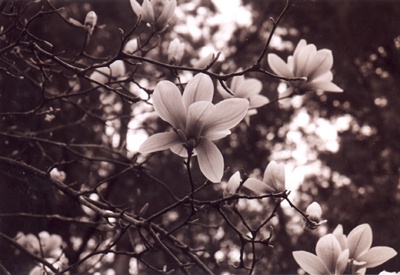 © Lauren T., Hopkinton, MA