Unanswered Questions
August 21, 2012
Why? Why did I have that dream? Is there a reason to that madness? It brings up all those raw feelings that I've worked so hard to keep down and out of mind. It brings back so many questions.
The anger and sadness I feel deep inside, words could never describe.I'm lost. Why must I have to feel? It's not easy to ignore anymore. It's been almost 2 years and I feel like the scab has been picked off.
I must be strong. I cannot give in and wear my heart on my sleeve. Even if that means building that wall from the bottom up again. Building it stronger and higher than ever before.
I still do not understand how a person could do such things? Without any conscience what so ever? Does it never cross their mind not once? Do they have any regrets for what they have done? Could someone truly have such a one track mind?
By me refusing to talk or think about this, am I just denying to cope or deal with the sad but true reality that is my life? Reality comes as a slap in the face. The slap is hard and firm. Leaving pain and shock behind with it. Never does it fail, to open my eyes to the truth behind it all.
The tears fill up my eyes but I refuse to let them fall. If I were to let one drop then whose to say it would only be one? How would I stop them once they've begun to fall? I am incapable of stopping the continuous flow of tears.
The cool, salty tears would slowly creep down my cheeks one by one. Leaving nothing but their trail behind them, as in reminder to the fact that they were there. Once reaching the end of my cheek, they fall into the hands that try to conceal my sadness from eyes to see. It is a sign of weakness that I must never show.
I must control them. Never letting them overflow. Wearing my heart on my sleeve just to have it broken into pieces.
But what that day that is to eventually come? The day I run out of strength to keep the tears from flowing? Incapable of holding back any longer is there anyone I can turn to? Someone who can be my shoulder to lean on? My strength when I am weak? Will they be strong enough to handle not only me but themselves as well?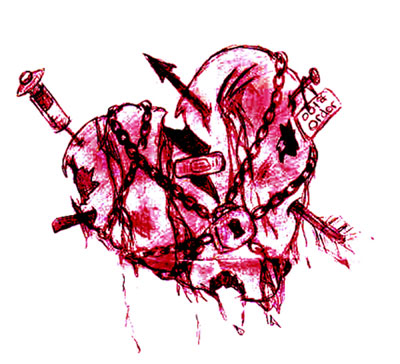 © Asia B., Hudson, MA