Take, If You Dare
January 23, 2012
I was listening to the radio the other day when an advertisement came on. It was promoting a pill that you could take and it would help you stay awake if you had an irregular sleeping schedule. It started out by describing what the pill was, "Do you have trouble staying awake? Do you have an inconsistent sleep pattern? Does your shift sound like this?" There was snoring. "You may have Uneven Shift Syndrome. With this pill you can stay awake for your shifts."
That took about twenty seconds. They then went on to the warnings, "Possible side-affects include insomnia, depression, suicidal thoughts from depression, suicide, drowsiness, liver damage, and kidney damage."
Wow, I thought, Could they have any more? That was a long list!
They could. The announcer went on, "Other side-affects include heart failure, stroke, paralysis, blindness, deafness, loss of feeling in hands and/or feet, hair loss, infertility, cancer, leukemia…" The list continued to list about a minute and a half more of humans' most feared diseases and conditions before adding at the end, "Do not take when pregnant, with heart problems, and consult you doctor before use.
"Does your shift sound like this?" There was more snoring, "Take New Vigil Sleeping Medication to renew your senses before a hard night's work."
I'll take caffeine and stunted growth for the rest of my life, thank you very much.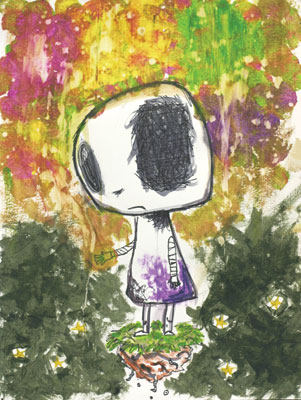 © Ashley W., Port Charlotte, FL