Music in America
May 22, 2011
Music varies in style, tempo, lyric choice, and several other characteristics depending on the society of the era. The society of today has evolved drastically when compared to the society of decades past, and consequently, music has as well. Current music displays society's morals, values, thoughts, and desires.

Today's music has greatly evolved from the music of earlier generations. Music has evolved in nearly every aspect of its composition. Inevitably, individuals' morals, values, desires, and thoughts have also greatly evolved. For example, music composed in the 1950s was safe for young children, having no cursing or obscene language, and was free from allusions to sexual or adult concepts. The society of that time also had stricter morals. Sex before marriage was frowned upon and nearly unprecedented. Obscene language was saved for those whom were not normally accepted by the majority of society. Children were kept innocent and immature to worldly and adult affairs. In comparison, the music of today is much more controversial, less traditional, and far less safe for child listeners. Most popular music bears sexual references, obscene language, and other adult themes. Of course, most individuals today exhibit adult themes at much younger ages as well.

American society oozes with immorality when compared to the perceived immaculateness of decades past. Our society today beams sin, drug and alcohol abuse, and hurt. Our music illustrates these same actions and emotions. It is the essence and expression of a society, any society. In America, it illuminates the despair of a hurting nation, wrestling to find satisfaction in the next depressant or stimulant life throws at them. Music performed by Lady Gaga, Katy Perry, 3OH!3, and Cee Lo Green demonstrate what American society values and thinks about regularly. These popular artists perform music centered on sex, relationships, partying, drugs, alcohol and hurt – all the usual culprits of a specious good time followed by eventual mistakes, hence the emotional hurt often portrayed in music. American music says to the rest of the world, "I am hurting from the attempted satisfaction from temporal pacifiers. I am too wrapped up in all the fun to be worried about the consequences".

Therefore, music is a strong measurement of the hurt, despair, and values of a society. It has the power to illustrate the prosperity of happiness or its spiral downward into depression. It portrays America differently with every song, but one message is clear: selfishness is increasing and is only becoming stronger with every "Bad Romance" or "Forget You" heard by American ears.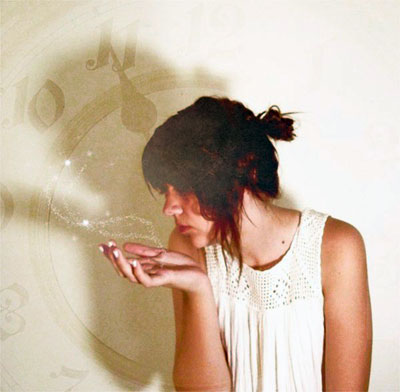 © Becca B., Groveport, OH