More About Nothing
January 18, 2011
"FIRE…..FIRE WAKE UP!"
"HURRY HURRY…..FIRE FIRE!"
Those were the first words that went through my ear drums on a breezy Sunday morning. Startled, surprised and scared to death I quickly jumped out of my bed, but after I learned that it was just a joke I dropped back on top of my Chicago Bull comforter. AHHH! I screamed my lungs out for almost a minute. My frustration was seen easily. I was not happy about the type of awakening I had gone through. Slowly I opened my crusty eyes and peered to the left to see what time it was, I nearly popped out of my bed when I saw the time, I was startled. "Come on dad". Those were the only words that my dry throat could utter at 6:30 in the morning. It was so early that not even the rooster had gotten up to wake up my neighbors. But slowly and with the hands of God my family finally pried my body from the bed.
"Don't you remember son, today is the day we have to volunteer at the Mosque" and that's when it hit me that a few months ago I had agreed to help my parents clean up our local mosque. After a short car ride we finally arrived at the Islamic Center of Arizona, a non-profit organization that offers a place of worship and learning for local Muslims. So when I stepped into the main office my nostrils were greeted with the sweet smell of tropical breeze. "Today we will be taking apart the roof" said my father whom relentlessly helped improve the condition of the center. So there we were me and my brother on top of a roof at 7 o'clock in the morning. Throughout the whole day the constant "clacking, smacking and banging "of the hammer rang in my ear. Nail by nail and tile by tile we removed the aged and outdated sheets from atop the roof.
After we had finally finished the job I began to jump for joy and in the process I nearly touched a cloud, but I guess that's how happy I was that the job was finally done. But here came my dad like an annoying fly and he began to tell us our next objective. Dirty, raggedy, and extremely musty, my brother and I received our orders. This time we had to help feed the local townspeople whom came to eat and enjoy a meal. So there we stood inside a small 40 by 40 room with a microscopic amount of food and a plethora of hungry individuals. Scoop after scoop my hand began to feel weak and that's when it went numb. But luckily I had another arm, so I began to think how this was like an episode of Seinfeld. But immediately after I processed this exact thought that's when I saw something that I would never forget. A young boy about my age came in and he didn't look to well. His clothes were torn, his face looked like a thorn bush and he looked skinner than a twig. So after that encounter we began to talk and he had a lot to say. "Can I have some more please"? Is what he kept asking me and every time he asked me I granted his wish.
At this moment I began to think, I wondered about how I am so fortunate to have an education and also a lavish lifestyle. Others don't have what I have and I take my possessions and most importantly my family for granted. And it took this 15 or 16 year old youngster and for me to finally open my mind and think about how awesome my life really is. After this unforgettable day, I soon began to realize that I should enjoy the objects I own because there might be a youth out there that has it 100 times harder than I do.
With the inspiration of this day I began to volunteer more at shelters and organizations. Truly this is the lifestyle that I want to be a part of, one that creates a better future for the struggling youth of America.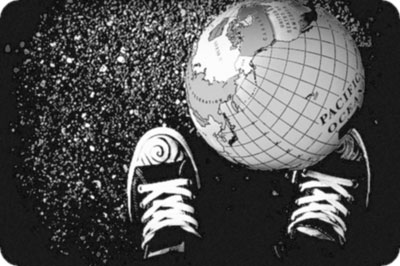 © Kailey E., Crownsville, MD