Keep smiling Tom
January 18, 2011
"A cah-cah Clown." he answered unsurely after i asked what he had been for halloween.His answer was based on his deepest remembrance. Tom had Alzheimer's and was unable to retain any type of new information for long. He wasn't much of a talker and would stare at me patiently with his blurred blue eyes. I tried to keep him distracted so that he wouldn't have time to think of wanting to leave. We would shoot free throws together on one of the miniature plastic playmate hoops. He never missed a shot and only chuckled to himself when I gave him a compliment. During lunch, Tom would sit by the window all alone and stare longingly at the street. It seemed like he was revisiting a distant place.

I didn't blame him for wanting to be someplace else. The John C. Lincoln elderly center in Phoenix was convenient for people his age, but it was nowhere near homey. The floors were white and sprinkled with little black dots. An occasional gray table would disrupt the pattern of brown ones in a row. The small intervals of silence were interrupted by clocks ticking, chairs twitching, and the coffee makers' humming. Non the less there was always an attempt of small talk between patients and nurses.

At times Tom would leave his lunch, walk toward the exit of the center, and chant "goodbye everybody!" The other patients would stare, surprised that he was actually leaving. I would calmly approach him with a deck of cards and say "Hi, my names Cristina, want to play black jack." That was another thing about Tom; he could never turn down a game of black jack. It worked like magic; His eyes squinted as he popped a smile and said "okay!" when I would go past 21 he would laugh and joyfully shout " too many cookies!" we played until my four hour shift was over.

As I waited for my mom in the parking lot one of the volunteers came from behind with her hands in her pocket and said "Toms' not usually at ease with volunteers." I stared at her and thought to myself "One may have forgotten a lot of things as time goes by but if you still remembers how to smile you are still living."A smile is a beutiful gift. I knew better than to mention my thoughts to her. It was just something she would have to learn from Tom herself.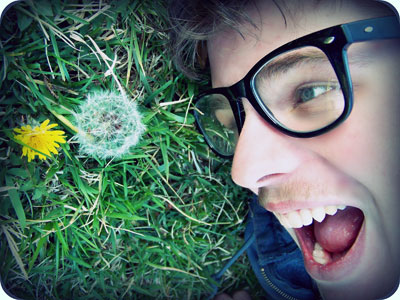 © Kayla C., Burlington, NC