T.I. Talks Down Suicidal Man
October 26, 2010
T.I., or Clifford Harris jr., is a famous rapper/actor. He's been jailed at least four times, most recently this past April on unlicensed weapon charges, and then again in September on drug charges.
With meaningful lyrics on top of sick beats, T.I. has a fan base of kids that care more about sex, drugs, and cars, and demanded an explanation, not an excuse, for the rapper's careless behavior.
"Either die or go to jail, that's a hell of a decision" he says in 'Ready For Whatever' on Paper Trail, the album he wrote when arrested and jailed for said charges. He's explaining the fact that he took the chance on carrying weapons, knowing he could wind up in jail, which is better than dying had he not had the protection the guns offered him. Smart, right? It's a case easily argued. T.I., register your weapons. His same explanation can be backed up with lines like, "people that won't rest until I rest in peace", "[people] out there tryin' to rob me and kill me", and multiple other lines similar to these. And everyone else can argue back, T.I., you've got money, hire a bodyguard. But he didn't seem to think so, and I submit this theory with the alibi "I'm just tryin' to let you know that I didn't think I had a choice."
What do I personally think? I can see the reasoning behind his points, but I can also see the other side of things. However, the drugs were no excuse. I'm all about legalizing marijuana, but if it's illegal, it's not necessarily a good idea to drive while smoking it.
T.I. knew when he carried unregistered weapons, he took the chance of being caught, same with the drugs. He knew the law would catch up with him eventually.
However, he had no idea what he'd come across and involve himself with, a man preparing to jump from a twenty - two story building. T.I. talked the man down.
My first thought was 'If this was anyone not famous, would they be getting the same amount of publicity?' But that question jumped off a twenty - two story building when I heard talk of what everyone else was asking, 'Was it a set - up?'
The rapper had a court date soon approaching, and some suspect he set up the act to sway the jury's thoughts about him. This didn't work, whether it was a set - ip or not, because he was found guilty and jailed irregardless.
Would someone stoop that low? Would T.I., someone I've always considered real and looked up to pull something like that? With his money and fame, he could have easily found a connection inside the building and the 'plan' could have gone flawlessly.
What do I think? Well, I don't want to believe it, however it seemed very coincidental, for him to just happen to be listening to the radio station that was discussing the suicidal man, and able to reach it in time.
However, I also believe in fate.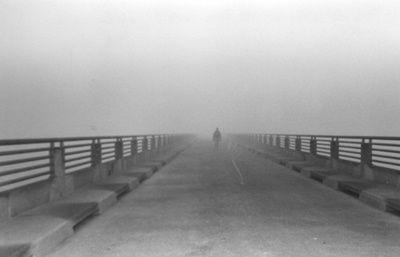 © Becky G.,Westerville, OH