Stop the Vulgarity
March 1, 2010
Schools: the knowledge centers for our future generations. Yet what comes out of students' mouths sounds nothing like knowledge. The foul language heard appalls those who desire a more eloquent student body. Students believe they take advantage of the United States Constitution's First Amendment by fully stating their opinions in the most vulgar ways. However, students need to use their First Amendment rights with proper language. Students must stop swearing uncontrollably in school.

Students need to demonstrate their knowledge with their diction instead of using common, unintelligent language. Honors and AP English teachers expect less palaver and more intellectual diction. In the professional world, proper word choice shows intellect—cursing shows ineptitude. In the Alexis Burling article "Four-letter Foul: If You Think It's Cool to Curse, Think Again. The Real Test of Maturity is Learning How to Express Yourself Without Resorting to Swearing," published January 2007 by the magazine Scholastic Choices, he writes on John V. O'Connor's opinions expressed in his novel Cuss Control: The Complete Book on How to Curb Your Cursing. John V. O'Connor explains how swearing shows laziness: "Swear words can express anger or joy, which are completely opposite feelings," O'Connor says. "That's why swearing is lazy language." If students demonstrate proper word choice, they lessen the negative image placed upon them by the tainted language while gaining knowledge of proper vocabulary.
In addition, students use swearing as a form of bullying, which most school systems say they do not tolerate. Students learn to act respectful and kind, yet disregard these teachings. An article in the New York Times titled "If You Swear You Pay: Students Fined $103" by Jane Gordon, 4 December 2005, explains how students using vulgar language pay the price: "He [Mr. Pearl, the resource officer] said the crackdown on swearing was a small way to fight violence at the school, and to keep street behavior from overflowing into the classroom," states the article. Students use swearing to degrade others; instead, they need to practice acceptance and sympathy.

Above all, swearing uncontrollably in school may lead students in the wrong direction later in life. In the article published on 14 May 2008 by Arizona Central titled "911 Operator Fired for Swearing" describes how a 911 Operator in Nashville, Tennessee was fired for saying, "I don't give a s---t…" to a woman being held at knifepoint by her ex-boyfriend. If the 911 Operator started practicing better anger management skills early on, he would still have his job. Students must control language now so as to prevent future grievances from uncontrolled swearing.

Yes, research shows swearing releases anger and helps relieve stress; however, swearing at others releases anger in a degrading manner, which may help the individual swearing but still demeans the victim. Also, the negative response from the victim further escalates the conflict, thus actually creating more stress for the individual who started utilizing the coarse language. No, not everyone who swears has a low IQ; but, because of judgmental behavior, teenagers seem uneducated and wretched to those who view swearing negatively. No, swearing does not directly lead to jail time; still, if swearing becomes a habit, occupations may not accept the profanity, leading to dire employment consequences if the swearing continues.
I am grateful we live in a magnificent country where we express our freedom of speech daily; nevertheless, swearing must stop in schools. Swearing sounds lazy, bullies others, and leads students down the wrong path. Eloquence needs practice, and practice begins in school. Students need better anger management techniques and ways of expressing disagreement. Left untreated, the functionality and image of future generations remain in jeopardy.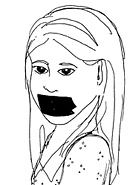 © Liza M., Vineland, NJ