Obama: Worthy of the Nobel Peace Prize?
February 21, 2010
Many seem to condemn and ridicule the Norwegian Nobel Committee's decision for choosing Barack Obama as the recipient of the 2009 Nobel Peace Prize. The question that arises on many minds is: What exactly did Barack Obama do to receive such a world-renowned prestigious award?
This question may still be left unanswered. According to the Norwegian Nobel Committee, they choose candidates who have done the, 'most or best work for fraternity between nations, for the abolition or reduction of standing armies and for the holding and promotion of peace congresses.'
Alfred Nobel, the founder of this foundation, wanted the prize to be awarded by a committee of five people elected by the Norwegian Parliament. Choosing peace as a prize category, candidates can be nominated each year from a variety of backgrounds. In 2009, over two-hundred nominations were received, a record high for the committee. This year, Barack Obama received a unanimous decision in which he won the Nobel Peace Prize.


This selection is somewhat puzzling, as I do not know what exactly Obama did to receive such an honor. The fact that Obama has only served nine months in office, but received the prize is what riddles me further.
Many, including myself, resent Obama's growing popularity in other parts of the world; and while many Americans don't find the motive for Obama receiving the award, some find it a political planned objective.
I believe Obama received the award in order to motivate him to do positive things for the country as well as to thank him for not being George W. Bush, as many believe Bush negatively impacted the American government.

In reaction to receiving the award Obama said that he was, "surprised and deeply humbled," while the committee said it honored Obama for his, "extraordinary efforts to strengthen international diplomacy and cooperation between peoples," by visioning of a world without nuclear weapons and freedom for all people. Many Americans feel this occurrence was similar to that event of 1990 in which Mikhail Gorbachev won the prize for his efforts to open up the Soviet Union, to which Obama even responded that he doesn't feel he deserved to be in standing with previous winners such as Gorbachev.
Many prominent individuals in history were nominated, but were eluded from the award, such as Mahatma Gandhi, Adolf Hitler, and Winston Churchill. So what exactly did Obama do to achieve this honor, winning over candidates such as Gandhi? In my opinion, Obama never achieved anything worthy of a Nobel Peace Prize, just proclaimed his vision of an ideal world. Attracting all in his compelling speeches towards global unity and freedom, one would assume Obama would at least take action in what he preaches. Even though the committee awarded Obama for his efforts to strengthen diplomacy this year, shouldn't he have actually acted done something instead of just speaking of this?
In one quick incidence, the Norwegian Nobel Committee seemed to make the biggest mockery of the world's most honorable award, by giving it to President Obama.
Obama is the first African American President along with being the third sitting president to win this award. As for the $1.4 million dollar prize, Obama claims he will donate it to charity.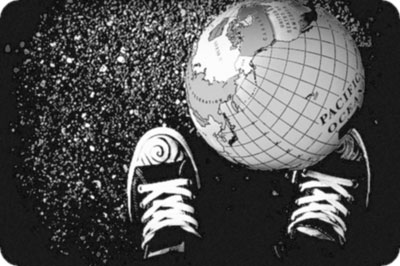 © Kailey E., Crownsville, MD