Why nobody talks about Jeff anymore
April 27, 2018
Why nobody really talks about Jeff anymore
Jeff was a fun guy with a weird imagination and sense of humor that got him into trouble. When Jeff was a young boy, shorter than his friends but much smarter. For his birthday his mother Susanna bought him a puppy. Jeff named it Reese's because the dog looked like peanut butter. One day tho Reese's got out Jeff ran after her but got lost in the maze in the back of old Greg's house. Old Greg was the oldest person in the neighborhood and everyone was afraid of him because he had a glass eye.
40 years past and the police had stopped looking for Jeff. His mother had died, his sister had gotten pregnant and his brother was arrested for killing a gay man. Then one day in March a package arrived at Jeff's sister's house, it was a letter from Jeff explaining what had happened and where he thinks he is. Jeff's sister tried calling the police but the phone lines were cut. The lights cut out and it went dark when the lights came back Jeff was standing over his sister dead body covered in blood. There he had left a letter addressed to his brother, with instructions on where to find Jeff. When the police arrived they found the letter and went to the location where Jeff was supposed to be, but he wasn't, it was a trap. Jeff knew the police would try and catch him and they wouldn't give his brother the letter. Whilst the police went to the location Jeff went to his brother's house to talk to him about why went missing. Unfortunately, jeffs brother killed himself when he heard his sister was dead so Jeff was all alone once again. As a result of this Jeff went back to old Greg's house to hide in the maze.
Months later an entire school bus full of children goes missing and the only evidence that it was Jeff was a letter saying he is back again. Soon after government officials and even nurses go missing. The FBI gets involved and a giant manhunt breaks out searching for the missing people and Jeff. People were disappearing so quickly the military needed to get involved and that is what Jeff wanted. Jeff was stealing all these people because he was building an army to take over the country.
What looked like the beginning the next world war was quickly ended after a stray bullet from an officer struck Jeff in the neck instantly took out Jeff. All his minions lost the brainwashing that Jeff was giving and the world went back to normal. A couple months after the end of the conflict a statue of this officer was erected. This officer was promoted to lead detective and joined the FBI. Sadly he died of cancer, his sons become police to live up to their fathers wish to stop the worst criminals alive.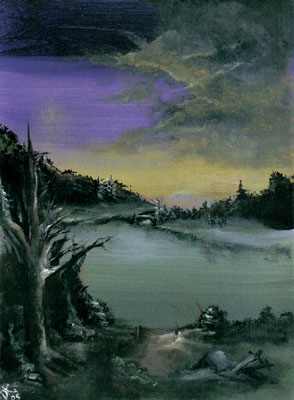 © David K., Birkenhead, UK