Sanctuary
April 20, 2018
As I stand, gazing at my forgotten home, a shiver dances across my spine. My multiple layers of clothing cease to prevent the icy chill of a frosty Winter night. The cracked path, now covered with decades of mold, continues to wind itself to my front door. My roof, rotten black from neglect, begrudgingly conceals the house like a shield, hiding the secrets that lay within.
My hand hovers over the rusty copper doorknob. I gently push the ancient door, which gradually creaks open. A musty odor torments my nose as I wander inside. A thick blanket of dust settles on the decaying floorboards. Silence fills the whole place, causing the moans and creaks of the crumbling house to ring throughout the deserted halls. The picture frames of my family remain hanging, slightly off centre, but still a reminder to me of my past life. Peeled wallpaper lay discarded on the floor. The worn-out couch still waits silently in the corner of the front room, large rips on the sides overflowing with brownish-grey fluff.
I drift over to the staircase, wood rotten and cracked, grime-covered golden statues of angels expertly positioned on the top of each post. Once a grand stairway, now a crumbling heap of wood and moldy gold. I cautiously climb up each step, hoping they don't give way and release me into the horrors of whatever's underneath these floorboards. Every move I make causing the groans of the house to intensify. Once I make it onto the second floor, I can't help but stare at the huge portrait of my family, taking up the entire left wall. There's my mother, wearing a necklace of the finest pearls, and dressed in a form-fitting black dress. Next to her is my father, wearing his usual suit and tie, with a cigar in mouth. Below them is my older brother Edward, and my angelic little sister Maybelle, both of them in their best attire. In the corner, standing beside my father and sister is me, I was only seven when this picture was drawn, pink-cheeked and starry-eyed, much has changed since then. In the 1970s earthquake of Collingham, my entire family perished as well as many other innocents. That was over 40 years ago, I can only pray they all made it to heaven safely.
Bowing my head in respect for my deceased family in the portrait, I proceed into my old chambers. A few dolls lay awkwardly positioned on the floor, each doll with different hairstyles. Light pink wallpaper, somehow, still barely clings to the wall. A closet, with hinges broken, suddenly springs open, probably just the wind wanting to play. The moonlight created a dim glow to the room. As I drift over to the window, I notice all five of my family's graves in the backyard. My mother and father's grave next to each other, fortuned to spend eternity together. Maybelle, Edward and my graves sharing a single stone, with one dead rose to honour all of us. Looking over my shoulder I can just make out the silhouette of my bed, seeking comfort, I crawl under the bed sheets, it's been a long day in purgatory.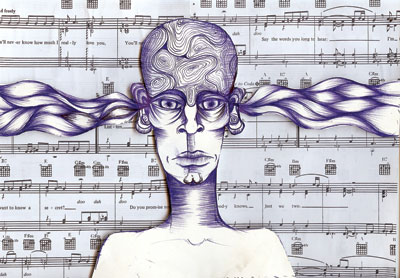 © Ani S., Petaluma, CA