The Dream That Became Reality
March 27, 2018

I work in the day holding masses praying to god about my thankfulness to him but also for forgiveness on the sins I commit. It's not normal for people to confess their sins everyday but for myself I have to.

My dreams are vivid they feel as if they are real life. They feel real because the next day when I wake up I can smell the remains of ashes around me, with my head and back hurting. I thought it was my sofa but I could be wrong.

I turned on the T.V and the words "Breaking News" filled the screen. It showed a man in a white cloak growing seven feet tall, growing horns and wings, and had fire within his eyes. He walked to several different churches burning down crosses with Jesus on them. I got down on my knees praying to god that they catch this man.
I went to work and could smell intense smell of burning wood. As i got there, their was a crowd of people waiting outside of the church. I wondered why, not alot of people go to church at seven o'clock on a monday morning. I opened the doors and people started running in kneeling on their knees screaming "god please protect us from this demon among us". They were all so scared and people started to ask me how they would protect themselves and I would have no answer.

After a long day of hearing the same sentence at least a hundreds of times, my long shift was over. I went home eating dinner and then getting ready for bed. I went to sleep and my dream was becoming worse than it was yesterday. I was killing people with no remorse, blood splattering all over the streets and burning things down.

I woke up the next morning with the same smell as last time, Burning wood. But this time something was different, I looked down and saw blood on my clothes. I didn't know what to think of it I couldn't believe it.
I turned on the tv and breaking news popped on again this time they said that they caught a slip of the persons face. They showed it and in disbelief I ran to church. I got on my knees asking god how this could've happened to me, and that I thought that it was just a dream.

The next thing I know the police barges in telling me to keep my hands up. I looked to my left and right at both exits on my side. Police blocked me in from all sides so I listened to all of the commands. "you are under arrest put your hand behind your back" .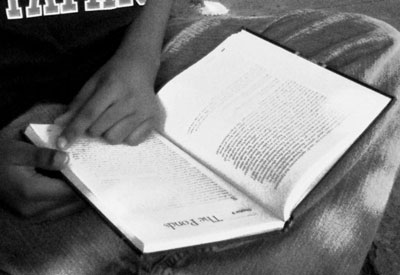 © Allan L., Plano, TX