The Not-So-Fine Fourth of July
March 16, 2018
A big pop, then an array of colors lit up the Cohen house. It was Isabel's favorite holiday, but she was grounded and lonely in the middle of the summer before senior year, when she could be at the party that her best friend Sophia was hosting. Her parents kissed her goodbye as they were heading out the door, to a party of their own. Isabel clenched her sweaty fists as her heart rate increased. She rolled her eyes when her dad told her to stay inside and watch her little sister, Lucy, until they returned at 11.
The second that her parents set foot out of the door, she sprinted to the "hiding-spot" that her parents kept her phone. 5. 6. 7. 8. Messages are rolling in from Sophia. Isabel was going to make it to this party no matter how hard it was going to be. She locked eyes with Lucy and Lucy immediately shook her head no, as if she was telepathic. This has happened before. Lucy knew exactly what Isabel wanted to do.
"I will pay you," Isabel uttered.
"How much this time?" Isabel inquired with a disgusted look.
"20?"
"Ugh, fine but be home before 10 to put me to bed!"
"Will do, I love you Lucy,"
Isabel swiftly sent Sophia a text that she would be there in 10 minutes. She scurried back to her parents room, returned her phone to the box under their bed, ran up to her room and put on her new red, white, and blue romper. On went her metallic washed sandals and her corresponding metallic hoop earrings.
"Bye Lucy I promise to be back at 10 on the dot, thank you so much, you're the best sister anyone could ask for!"
"You owe me. Big time, Izzy."
The door slammed behind her and she was off to South Barone Bay, the other big gated community where the majority of Norfield High students lived. The palm trees swayed as the blustery summer weather was taking over the island. Whistle, boom, crackle, went all the fireworks, as Isabel jogged down the road toward Sophia's house.
She looked at her watch, it was 8:41. I should go back. My parents are gonna find out and I'm screwed. I should go back. Isabel turns back slowly debating whether or not she should go home, and do what's right, or go on to the party of her dreams and have the most fun she's had in a while until 10. Wow, I'm really gonna miss out if I don't go. Okay I decided, I'm going to this party no matter how mad Mom and Dad get. Grayweather Bypass. Pimento Circle. North Barone Bay. Yes! One more street and I'm there. This is gonna be the night of my life. The giant, silver, intimidating gates were so close. Three more houses to go. She just had to get to the home with all the bright lights and thundering echo of DJ Khaled's voice from the speakers that were blasting music. She made it.
As she slowly opened the front door, she heard a voice call, "Izzy! Izzy! You're here! She turned around and saw that it was her dreaded ex-lover, James. Ugh why him, why can't he just stay the hell?
"I thought you were grounded?' James asked with a slight slur in his words.
"Go away, you drunk!"
"Okay Miss Sassy, I guess I will just go talk to Mason on my own," James said while walking away.
"Wait, James I'm coming let me just grab a drink!"
Isabel walked through the living room, family room, tv room, then finally she reached the kitchen. The gigantic bowl of syrupy looking, fire engine red punch. I really shouldn't do this. But what's a fun night without just a cup of punch? She grasped the sticky ladle to scoop some of the nasty looking punch into the matching solo cup. She took a big gulp and clenched her eyes shut as the liquid poured down her throat. One down the hatch, one more and I'm done.
It was time to catch up with James. Isabel had to make a good first impression with her newly arisen crush, Mason. She stepped out the door towards the backyard as she spotted James with his blue and red checkered shirt and ripped khaki shorts, that clearly haven't been washed in a few weeks.
"James! Wait up!"
He turned around in a hurry.
"Come on Izzy, talk to him now before you fail like you did with me." He winked and gave a smirk that Isabel didn't react to.
"Mason!"
"Uhh… hi, Isabel Coh?"
Isabel couldn't focus on what he was saying. This was the night that she was looking forward to. Mason Johnson. Captain of the football team. Everyone's dream boyfriend. Was talking to me. This is amazing. She tried to contain her smile as she was realizing that this was the night that she has been having dreams about the past few weeks.
"Bella!"
A boisterous and squeaky voice called from a distance. There was only one person who called her this, her best friend Sophia Jones.
"Phia!"
"I'm so glad you?"
"I know, I know! Mom and dad are at a party and I paid Lucy to keep it a secret!"
"Ummmm are you talking?to?Mason?" Sophia's voice raised and Mason turned once he heard his name.
"Okay, sorry girls I will catch you later, gotta get home before my parents go ballistic on me."
"By Matthew….Mark…. I mean Mason!" Isabel turned with embarrassment.
"I totally just messed up my own crush's name. He thinks I'm the weirdest?"
"Calm down Izzy they're are plenty of other guys out there that would be so grateful to have you. Anyways, let's skedaddle over to the beach to catch the fireworks!"
"K, but first what time is it?"
"9:29"
"Alright everyone, let's go to the beach to see these fireworks!" Sophia yelled for everyone to hear.
Everybody refilled their drinks, and formed a large stampede to walk to the beach, just a few blocks down. Isabel felt queasy. Something didn't feel right that she sneaked out and came to this party when she should be babysitting her little sister. What if something happens to Lucy? What if she was kidnapped? It would all be my fault. I'm supposed to be there to protect her if something happened to her. Isabel approached the corner of South Barone Bay. Left? Right? Should she turn left and go back home to do what's right, or go right to go to see the fireworks that she has been looking forward to all year? Nah, I will go to the beach for a few minutes but after the first set of fireworks, I will go back home just in time to put Lucy to bed at 10.
The hint of sulfur in the breeze washed up against Isabel's face and she instantly felt as if she was in heaven. She spent every free minute that she had by the sea. Surfing, reading, walking, anything she could do in the sand she took advantage of. She looked around at everything. Everyone laughing and smiling ear to ear as if this was their last day on this planet. Nothing made this group of 17 year old best friends happier than the beach, all together with no homework, no worries, and nothing to get up for in the morning. Isabel spotteted Mason across the beach and she released a faint smile. She walked over to him with the confidence of an alpha-wolf.
"Isabel, hi!" He said with a smile, glowing in the moonlight.
"Hey Mason, how's it going?"
"Hah, umm good. I was supposed to go home right after Sophia's house but what's an hour gonna do?" He winked.
"Yeah me too, I have to go in? wait what time is it?"
"It's 9:4?"
"K, then I'm good, I have to leave in a few minutes to deal with my annoying and completely dependent little sister."
He reached his arm around her neck and they observed the fireworks as they exploded in the sky ahead of them. The luscious, soft white sand trinkled between her toes and the sight of crystal blue water ahead of them put Isabel in a peaceful state. Thank god I snuck out, I would have lost it if I missed this. The loud cheer of the crowd roared as the finale came to an end. Isabel clapped and turned to Mason to go in for a kiss, but before she could she heard a voice.
"Bella, you have to go! 3 minutes until you have to be home!'
Isabel thought to herself, could the timing have been any worse? Nope, she thought, Couldn't she have said that a minute later after she had had the kiss of her dreams?
"Haha, talk about bad timing!" Mason said while letting out a slight chuckle.
"I know, but really?"
"I should go to, before we both get in trouble."
"Yeah, but I will catch you soon right?"
They hugged and both went their separate ways. Isabel smiled as she walked down the beach, at the thought of her building enough courage to even talk to Mason. This really was the best night she had ever had. As she leaned against the lifeguard chair to brush off the sand before walking on the road, she heard footsteps behind her. Though something about it didn't seem right. Isabel didn't have the nerve to turn around and see who it was. The footsteps soon sounded closer and the small pant of this person seemed to be approaching.
Her mother always told her, "If you're in an uncomfortable situation, call me or fake a phone call."
Isabel reached for her pocket for her phone. Back pocket, front pocket, other back pocket, other front pocket. No phone. Her face turned sheet white once she realized that her parents had taken her phone and she had nothing to "fake a phone call with".  Her heart sped up and she began to panic. It's probably just one of her friends coming to say goodbye. She slowly turned around to find out that it was James.
"James what are you doing, I told you to leave me alone," She said while backing away.
"Why? Why? Why did you ever leave me Izzy? What did I do to you?"
"We broke up 2 months ago and you were fine with it then, why is it just hitting you now?"
His bloodshot eyes and drool coming out of his mouth startled Isabel as she waited eagerly for a response.
"You know what Isabel Lily Cohen? I can't take it anymore." He reached to his back pocket of his ripped, ragged shorts to pull out a long, pointy, stick looking object that sparkled in the darkness. Isabel examined this object in confusion. Before she could figure out exactly what it was, James ripped it out in front of her eyes. Her breath increased and she felt sick. This can't be happening. This is just a dream, he would never do this to me, she thought to herself as she closed her eyes in hope that this was only a dream. She opened her eyes and nothing had changed. This mad looking creature, James stood in front of her holding the knife up to her chin.
"What?did?I?do?" Isabel muttered under her breath.
"Oh be quiet, you know what you did," He increased his anger level.
"You said you?"
Before she could continue her sentence, at 9:59 pm on July 4, 2011, James McCarthy thrashed this object right into Isabel's chest. She screamed in pain as she felt it pierce through her skin. Her body went ice cold. Down she went, into the sand. She gasped for her last breath as James sprinted away, turning to make sure that nobody saw.
Meanwhile, back at home, Lucy sat on the couch ready to scold Isabel for coming home so late. She dozed off on the couch until the alarming sound of the door opening chimed when her parents returned.
"Hi Luc, where's Izzy?" Her father questioned with a very frustrated face.
"I don't know, she never came home?"
"Came home? What do you mean came home she was supposed to stay home and watch you?" He shook his head in anger to find out that she had snuck out. Again.
"She is going to be in some serious trouble," Her mom said while grabbing Isabel's phone from under her bed.
She searched through Isabel's contacts until she reached Sophia Jones. She called that number and waiting for an answer.
"Hey Bella that was so much?."
Before Sophia could finish her sentence, Mrs. Cohen shrieked.
"Where is my daughter?"
"She left hours ago to come home," Sophia said clearly with a confused voice.
The crackle then sudden monotone hum of the disconnected line resonated through the Cohen house.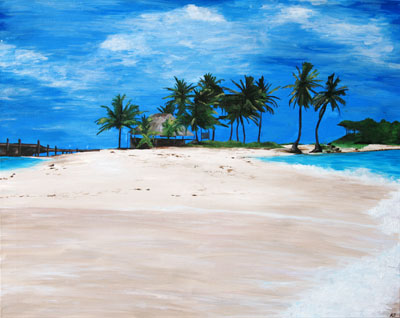 © Karen S., Norwalk, CT