Agatha Christie Inspired Story
March 20, 2018
Given the choice, I would not have picked spending my winter vacation working. Tammy, my son of just five years, didn't deserve to lose the rare days that his mother allowed to share with me. I eagerly flipped through the papers the police tossed to me. Mr. Pinch died around 7-8 am, about to retrieve his daily coffee. The middle-aged man went to the gym at least three times a week and walked his German Shepard every day. The information also stated that Mr. Pinch was very environmentally conscious; he even got awarded Greenville's Model Citizen of the Year for spending more than 500 hours in community service. With a sigh, I knew it would be quite a complicated investigation. I waited in front of Mr. Pinch's former house for the police to return with more information.

With a ear splitting screech, a cherry red sports car rounded the curb and braked inches from my beat-up CRV.
"Heyyy!" Hollered the figure that exited the car.

I stepped backwards, frightened by the greeting that seemed to be directed to me. The person started sprinting to me and he started to form the shape of a healthy young man.

"Hey, man, are you the police? Do you know what's going on?" the man asked, panting as he reached me.
"This doesn't involve you. Please remove your vehicle and leave the crime scene."
"What!? This is my father's house! I'm entitled to know what's happening!"

I knead a fist to my forehead. This young Mr. Pinch's physical features perfectly matched the information on Mr. Pinch. And the man's knowledge on his father would be most useful. I handed my business card to him.

"What's your name?" I asked.
"Fletcher Pinch." He accepted the card and stared at me. When I didn't reply accordingly, Fletcher exhaled. "Aren't you going to show me what happened?"
I ignored Fletcher's question and glided past him. "My colleagues will contact you when we need you for questioning. See you soon." Cheerfully, I slipped into my car to answer the vibrating phone in my pocket.
"Rollan, another death occurred several minutes ago. We just got the call. Can you make it there? I'll text Beverly the address… Have fun!!"

The phone beeped before I could argue that I didn't want to pick up another case. My colleague, Beverly Howell, cheered beside me. She's quite new and loved visiting crime scenes. Our Greenville team always wanted to beat the Lakeville detective team. I usually end up juggling several cases at once. They probably thought sending me out with Beverly would boost the detectiving rate. A short jingle of the phone warns me that I should get going.
Beverly and I walked up the gravel driveway as a bright blue house with a yellow roof came into view. Birds chirped from between the trees. I got a confused look from my colleague as she checked her phone.

Beverly sighed. "Davis must have sent us the wrong address."

"That's not possible," I mutter. "See, there is barricade tape there." I point at the yellow tape that danced with the wind as it desperately gripped a tree. It was also strung across the house door, warning all to beware.
Beverly nodded. "Alright… should we visit the house owner then?"
"If they're not dead," I chuckled. Beverly laughed too, and the moment felt a little lighter.

I volunteered myself to reach over the barricade tape and press the doorknob. The sound echoed through the air. Beverly leaned over my shoulder, eager to see who would answer us.

"I don't think anyone is coming," Beverly whispered. A breeze whisked her short ponytail back and forth.
Let's go back to the car." I suggested with the usual volume of my voice.
My colleague flinched. She shoved past me and pulled the yellow tape off the door. "Come on, Rollan! It's not a big deal if we go inside. If nothing is inside, then we can go back."
I sighed. Beverly was quite lively and her spirit was becoming contagious. "Alright."
Beverly squealed and she twisted the chrome door knob.
"Come on!?" I said when Beverly had not yet opened the door.
"It's jammed!" Beverly hissed.

I must have been sighing too much, but here I sigh again… I softly nudged Beverly away from the door. Then I reared back and kicked the door open. It slammed the wall across the hall and Beverly whistled.

"Quite impressive for such an old man!" Beverly cackled with laughter.
I gave a quick smile. "Let's get moving, dear child."
We pushed our way into the house and were horrified at what we would find.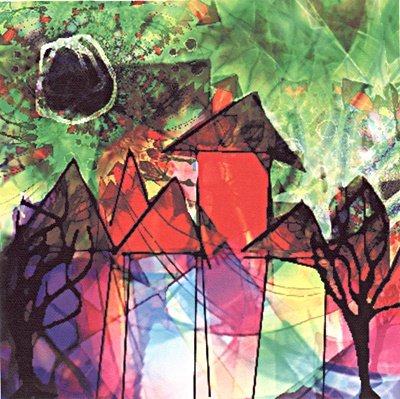 © Tanya T., Galesburg, IL