Baywatch
March 13, 2018
Sirens were blaring and people were screaming in chaos. I was frantically looking for Mitch, who was the Captain Lifeguard. How could anyone imagine their first day of work as a disaster? Brody, Summer, Ronnie, and I were the newbies. Mitch was taking control of the terrible situation, but that didn't help the yacht catching fire in the middle of the ocean.
   
    Mitch was shouting out the emergency codes that I didn't have memorized yet. I found Summer. She got on her jet ski and we followed C.J. out to the yacht. Brody, being the stupid arrogant, ex-olympian that he is, went by himself onto the burning yacht to save the women. Summer and I were ordered by Mitch to stay back to observe and be backup if needed. Mitch and C.J. nearly saved Brody and the women, but there was a problem. We found another man, already dead, laying on the ground of the yacht. This was no regular civilian, it was the city councilman, Rodriguez. He was pronounced dead from the fire, but we all knew there was more to the story.
    Earlier that week, Mitch had found a small pouch of the newly popular drug, flakka. It was washed up near the Huntley Club, owned by the very sketchy businesswoman, Victoria Leeds. So, when we saw that she was having a party at the Huntley Club, we decided to go and investigate. We didn't have much luck thanks to Brody getting drunk and acting foolish, causing a bedlam.
    The next thing we did was crazy. Mitch, Brody, Summer, and I stupidly decided to sneak into the city morgue to take a look at Rodriguez's body. We were interrupted by two of Leeds' men. Mitch had the terrible idea of hiding with the dead bodies so the men wouldn't spot us. Summer had her phone recording the men. We were all struggling to breathe with the musty smell lingering everywhere. What we witnessed the men doing made laying on a dead, decaying body completely worth it. The men were planting a false autopsy on the report to cover up that Leeds had ordered city councilman Rodriguez to be murdered by her men.
   
    The next chain of events was very unexpected. Brody was not okay with lying on a dead body. He once again made a scene. We were discovered. They ran down Summer, breaking her phone as Mitch caught one of them, not helping get the phone back. We lost our evidence. No one believed us…. So what were we supposed to do next? The police department wasn't even on our side.
    We began getting desperate to find any evidence. But then we got hit with the question. What location was Leeds running the addictive drugs out of? Our answer was the Huntley Club. Mitch, Brody, and I came up with a plan to go undercover and sneak into the club kitchen to get to the bottom of this. What we witnessed was completely unexpected. The workers were retrieving the drugs from barrels of fish that were underwater. Mitch contacted Sergeant Ellerbee at the police station of their findings. We were hit with terrible news. There was another dead body found on the beach. Little did we know, it was Ronnie's friend, Dave. The captain of Baywatch, Thorpe, was enraged. Mitch had left his post, which was where the body was found.
   
    That was when we got hit with the worst news we could have thought of. Mitch got fired for leaving his post. Brody was named lieutenant. I was shaken by this news. We were all lost without Mitch on Baywatch. Most importantly, Mitch was lost without Baywatch. He became a phone salesman, desperately needing a job. 
   
    Brody realized with Mitch gone, he needed to fill his place until we could solve this and get him back where he belongs, on Baywatch saving lives. I was patrolling the beach with Brody as we came across another pouch of flakka. Brody told me he was going to steal the second victim's report. We decided to bring it to Summer where we came to the conclusion that he too, was murdered. We figured we needed to tell Ronnie…. Then Ronnie remembered Dave, who was an amazing computer hacker, was working for a woman whose name he could not say. Ronnie, who was also a very intelligent hacker, helped Brody hack into Leeds' computer servers. This revealed her plan to systematically get all of the lands on the beach by buying out or eliminating (murdering) every other competing business owner.
    We were so ecstatic with this discovery. Our next step was to crash Leed's private, very exclusive yacht party.  As we snuck onto the boat, we found out how she had been smuggling the drugs using the hull. Brody was found by Leeds and was captured. We were frantically looking for him, not knowing that Leeds' henchman had put him in a bait cage to be drowned. Leeds thought she had won. As she was gloating to Brody about her glorious plan, she reveals that she had Thorpe working for her. Killing Brody would be the end of it. She was planning to escape on a helicopter. We had to stop her. Ronnie, C.J., and I launched fireworks to prevent her escape. Miraculously, Mitch, begin stung by a poisonous, dangerous sea urchin, fired off a Roman Candle to blow up Leeds into pieces. I was starstruck watching it happen. Mitch quickly worked to save Brody in the water.
    As we arrived back at the beach, we saw Ellerbee take Leeds' henchmen into custody. I overheard him apologizing to Mitch for ever doubting Baywatch.
    Thorpe began to approach us, undoubtedly screaming at Mitch for returning to the beach. Brody then stepped in and punched Thorpe in the face. The police arrested him for being very well associated with Leeds' plan.
    To finish off this happy ending, Brody and Summer began to date and Ronnie and C.J. began to date too. As for me, I'm more than happy that I am now apart of Baywatch. And to top it off, Mitch was reinstated into Baywatch.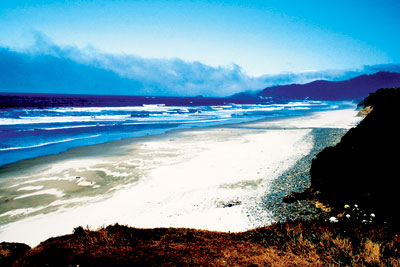 © Kristin R., Los Altos, CA