Small Town Terror I
February 26, 2018
Characters:
Dr. Andrew Murphy: a forensic scientist
Dr. James Rollison: a private detective
      Like any other ordinary day, I came to my office carrying a brown leather tote bag on my shoulder and the morning newspaper in my hand. My morning cup of tea was set in the center of my desk by my assistant, Annie, who had proven to be of great assistance to me ever since we started working together last January. My room was brightened by the morning light streaming in through the window, but rarely was the California sunshine completely obscured by a gloomy weather like today, as if an intimation of something unpleasant was bestowed to the world. The telephone suddenly rang and interrupted my train of thought. I picked up the phone  "Hello, this is Dr. Murphy." "Andrew (my forename), come down to my office immediately." The voice in the phone said, "There is something major we need to discuss." I hung up and hastened out of my office at once, as instructed, for I was certain, based on that excited voice on the phone, that something of importance had happened.

      My companion, Dr. James Rollison, was an ambidextrous man with a doctorate degree in biomedicine from Stanford University. The two of us started working together in this little townhouse 3 years ago. James was bereft of his parents ever since he was 14, which, however, did not hinder him from achieving greatness academically, since his parents had bequeathed a huge fortune after their death for James to live an opulent life. James started his career as a detective a little after he graduated from Stanford, as expected by the general community, for his astounding observational and analytical skills were quite prominent in the area. I was working as a forensic medical examiner at a certain national forensic organization when James started his career as a detective, and James had always come to me for consultation of medical reports. Eventually, yielding to his dour request, I agreed to leave my job to start this detective business with him independently. James volunteered to cover all the expenses of the company, and I deployed some of my colleagues from work as members of the company, making this business of ours possible.

      "This is a mysterious case indeed… Yes, I will be at the crime scene with Dr. Murphy at once." James talked on the phone as I entered his office. "You called for me, James?" "Yes, Andrew." said James, his blue eyes gleamed with excitement as he looked up at me, "Months of waiting and today is finally the day of a new journey. Come now, we need to be at the crime scene immediately." James sprang up from his seat as he talked and strided out of the room with his black coat in his hands. One quality of James I disliked was his tendency to speak vaguely of any matter to deliberately increase the sense of mystery, so I did not bother asking for further information about what case it was until we arrived at the crime scene.

      "There you are, Dr. Rollison and Dr. Murphy." investigator Novell came up to us as we arrived, "This house belonged to Mr. Grayson, 61 years old, who used to be a teacher at a nearby high school for 35 years. Mr. Grayson had lived here for 20 years,  and his wife died of heart attack 9 years ago. His daughter, Mrs. Lescharde, and her daughter, Joanne, discovered the crime scene when they arrived here this morning for Christmas Eve." The house was a small cabin adjacent to a little lake. As we first entered the living room, we saw a teenage girl sitting in a chair near the entrance, apparently in shock, gaping at the pool of blood in the middle of the living room. "That poor little girl there is Joanne," said the investigator, "She was sitting there looking absolutely horrified when we arrived here, but she truly has remarkable fortitude to participate in this investigation process, even if she is only 15 years old."

      I immediately started my examination of the crime scene. There was a huge amount of blood that adulterated the floor and even splashed onto the wall, possibly due to gunshots. The entire living room was in a guise of a robbery, with items scattered on the floor and shelves knocked over, but one can deduce that this was a setup by the killer, since nothing of value was missing. Then, with sudden realization, I turned to the investigator, "Where is Mr. Grayson's body?" "Oh yeah, that is the mystery of this case," said the investigator, "according to Mrs. Lescharde, there was no body when she came in, only a pool of blood in the living room." I then warily navigated my path across the room towards where Mrs. Lescharde was sitting, next to Joanne, in an attempt not to disrupt the original crime scene. As I sat down next to her, Mrs. Lescharde continued staring blankly at the wall, not noticing my presence. Her face was as pale as a white piece of paper, a pair of hazel eyes filled with tears of grief. "Hi, Mrs. Lescharde, I am Dr. Murphy." I introduced myself, "Is it okay for me to ask you some questions?" Mrs. Lescharde turned her head in surprise as I spoke, looking tentative to answer me. "It is okay, Mrs. Lescharde, I am a forensic doctor and I just want to get more information about Mr. Grayson for the investigation." However, my attempt to obtain some valuable information from her was in vain, for she was too frightened to talk.

      James was kneeling on the ground next to the mantelpiece with a stolid face staring at the ground , examining every inch of the floor with his magnifying glass. "You found anything, Dr. Rollison?" I asked. James looked up at me, with an expression of extraordinary concentration upon his clear-cut, hawk-like features, "This is a singular case," his eyes glistened, "However, our priority right now is to find Mr. Grayson's body. I am afraid there is much more mystery to this case that awaits us to discover."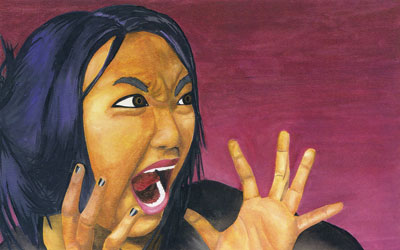 © Lauren S., Forest Hills, NY