running in the cemerey
January 22, 2018
Last year, i was walking home from a late night movie. And decided to cut through the cemetery. When i was walking i call Aaliyah because i heard noises. she answers the phone.

"Hey what are up".

"Nun much just walking through the scary cemetery."

"Why would you walk through their you know it's scary out there and dark!!!"

"Omg i see a shadow moving!!!"

"Manea run".
Your call has ended beep beep. I'm running as fast as i can trying to get away. I run behind a death stone. i called Aaliyah back.she said she was gonna be on her way to pick me up. And she would bring her ghost detector.
When Aaliyah gets their there's a ghost detector that she has in her hand. So i'm over here speed walking to cough up to aaliyah and she catches the ghost.

"I'm here to grant yall wishes from the other day."

Ohh thank you girl thank you. "Now all yall have to do is handle yall doing your personal things at home."
After that me and Aaliyah went back to my house and reflected what marie lavo was telling me and i think she right and also go to college and make it far.the next day i had t fly to africa to go see my family and cousins out their and Aaliyah went with me.the end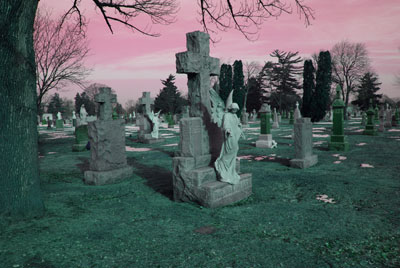 © Lauren M., Avondale, AZ