Sleep Tight
November 22, 2017
It was late, almost midnight and Professor Blackwood was still hard at work in his study. He lived in the Armistice Hotel with only one other occupant Martha and Clarice Ebony, the professor thought Clarice was quite an odd girl and noticed he never saw her out of her small room until very late at night, where he would hear her walking down the stairs and slowly creeping out the door. He would run into her in the halls very early in the mornings, just then coming back to the hotel while the Professor had just awoken and was heading to his classes.
  That night, the professor felt a churning feeling in his stomach. The feeling almost felt like a warning to Professor Blackwood, but he ignored it. He stood from his study and went to the powder room to take his medications. Professor Blackwood needed his medications to teach, and well do anything. Afterwards he slowly walked upstairs and waited for the sounds of Miss Ebony to exit the hotel, tonight he would make sure he knew where she was going.
Professor Blackwood sat in the uncomfortable wooden chair in his bedroom, until what felt like dawn but had only been a few minutes. His mind began to race…  She knows I'm watching, She's playing games with my mind. No, she isn't. Yes, she is. The professor's mind toggled from yes to no and back again until he was sure Clarice knew he was watching. He crept down his stairs and out his door, he slowly walked down the hallway and knocked on Miss Ebony's door. "Professor?" "Miss Ebony how dare you make a fool of me?" "Professor, are you alright, its quite late." Miss Ebony said glancing at her wrist watch. "Miss Ebony, I know you knew I was waiting for you, to once again creep out." "Professor Blackwood, lets please halt these insane accusations!" "Miss Ebony! Do not raise your tone at me, or you will soon regret it." Miss Ebony quickly closed the door, Professor Blackwood could hear her mumbling under her breath. Professor Blackwood stood outside the door and had made up his mind. This woman had not only made a fool of him, but had disrespected him also. He was sure she must have some sort of insidious spirit. The only way to get rid of the spirit would be to get rid of Clarice forever.
Blackwood went to the back of the Armistice Hotel with his shovel and began to dig a hole. He dug, and dug in the cool dusk air, sweat beading down his face. When he finished, he wiped his forehead and made his way back into Hotel. He once again made his way back to Miss Ebony's room and knocked ever so lightly on the door. "Professor, here to apologize I presume?" "I'm very sorry for this Miss Ebony." "For what?" With quick movements the Professor slid his pocket knife into the slim stomach of Miss Ebony. She died almost instantly. Professor Blackwood lifted her off the floor and out to the back of the Hotel. He hurled her into the hole and covered her with the dirt pile next to the hole.
Professor Blackwood made his way back to his room, with an oddly satisfied feeling in his stomach. Professor Blackwood went back into the powder room to make sure he had taken his pills and almost fainted at the sight of the pill box. Professor Blackwood hadn't taken his pills in almost an entire month.  His schizophrenia had run wild. This could mean anything. Was Miss Ebony really strange or was the professor just imagining it? Just then he heard the squeal of an older woman Clarice's mother. He quickly went out and looked down the hall, her mother was standing there in a pool of Clarice's blood. Or was the professor just imagining that too?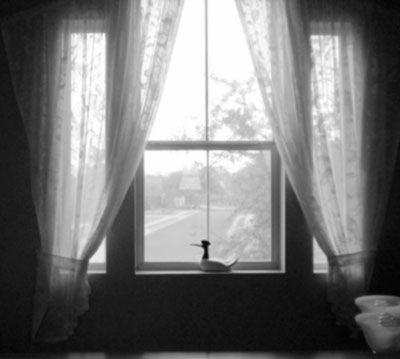 © Kathryn W., Austin, TX