Halloween Night
November 15, 2017
The night is Halloween when a group of friends mumble to each other about what they want to do with their night. They decide to go to an abandoned graveyard because they want to explore and they are feeling mighty adventurous. The crew trekked out and Ryan's grandmother stopped them and said "Where do you boys and girls think you are going?" Ryan discreetly says back "We are going to the old Mason Graveyard because someone said it would be fun on Halloween night." They march on out in the frigid cold temperature.  When they arrive, they all sit on different tombstones because they rode their bikes so fast in the cold that they need to warm up their legs. Then they pile their bikes up against an unstable, cracked, marble tombstone. With all the weight of the bikes on the tombstone, it topples over as they walk away. They all jump, not expecting that outcome.
They decide to walk farther into the graveyard. As they walk farther and farther away from their bikes, they notice something weird; the tombstones all have giant holes in front of them, just about three feet by three feet by six feet. People had to of taken the bodies, they can't just disappear, right? This graveyard is so old that they wonder why people wouldn't grave rob. If other people do it, it must be fun!
They found some old, dusty shovels in an old shed. When they decide to dig up one of the bodies, they pick the only body in the back corner of the graveyard, well the only one that hadn't been dug up yet. It was very odd, it was the only one clearly untouched out of hundreds. They notice a do-not-enter sign behind the tombstone. On the sign there was blood, they wonder who's it was since no one had been here, clearly since last Halloween.  They just leave it be and start to dig up the body. When they open the old and tattered casket, they all look at each other and gasp. Why did Ryan's grandmother look so wonderfully dressed and pampered, in this old and tattered casket?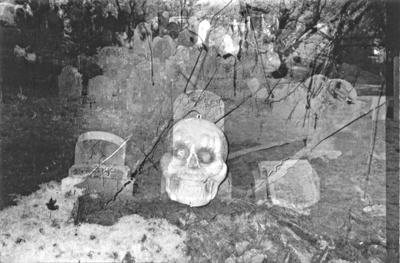 © Kyle M., Marblehead, MA